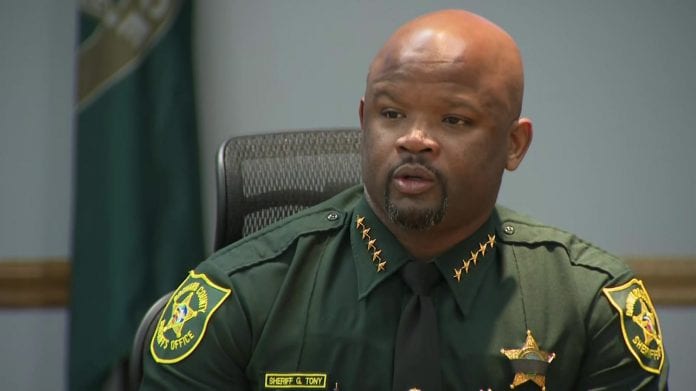 Florida Governor Ron DeSantis had defended his appointment of Broward Sheriff Gregory Tony as troubling details about his past have emerged.
The shocking revelation that Sheriff Tony was involved in a fatal shooting incident as a teenager was initially published on Saturday by watchdog news group Florida Bulldog.
The sheriff called it a "violent encounter" that he and his brother were involved in. At his family home in Philadelphia, then 14-year-old Tony shot and killed 18-year-old Hector Rodriguez, using his father's gun. According to Tony, Rodriguez had threatened to kill him and his brother, and the shooting was an act of self-defense. Tony was reportedly exonerated for the incident and the records were sealed.
During a press conference discussing the coronavirus pandemic, Florida Gov. Ron DeSantis was asked about Broward County Sheriff Gregory Tony.
DeSantis was asked if knowledge of the shooting would have made a difference in his choosing of Tony to replace former sheriff Scott Israel.
"It seems like he was in a very rough neighborhood and he was trying to defend his family. I don't think it would've, because it was self-defense," the governor said. "It did not come up in the background check because he had never been charged."
DeSantis also said that he been hearing good things about the job that Sheriff Tony is doing in Broward County, but did not mention the recent no-confidence vote held by a deputies' union, which found that 88% of the 768 ballots cast had no confidence in Tony.
"It seemed like he had the leadership, and people have been very pleased, the people I've talked to in Broward, have been pleased with what he's doing", he said.
DeSantis, however, steered clear of any political concord, adding that when it comes to Tony's re-election bid, "That's not going to be anything I'm going to be getting involved in."
Sheriff Tony was appointed by DeSantis in 2019 after Scott Israel was suspended due to Broward Sheriff Office's handling of the Parkland shooting and Fort Lauderdale Airport shooting.