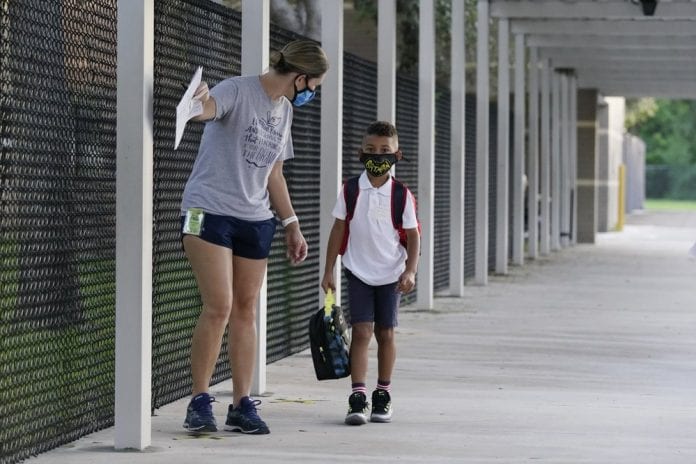 The top public health agency in the United States, the Centers for Disease Control and Prevention (CDC) has shared new school reopening guidelines, which has triggered nationwide backlash.
Under the guidelines, the CDC advises schools in their designated "red" areas to hold virtual-only classes for middle and high schools, while elementary schools should reduce attendance unless they can implement all mitigation strategies, and stop the spread of COVID-19.
The five key Covid-19 mitigation strategies are: the universal and correct wearing of masks; physical distancing; washing hands; cleaning facilities and improving ventilation; and contact tracing, isolation and quarantine.
The problem that state leaders are having with the new guidelines is that some 89% of schools in the US are in "red" areas, according to data by CNN. Under the CDC guidelines, all these schools would close their physical classrooms.
Among the state leaders who lashed out at the agency's guidelines is Florida Governor Ron DeSantis, who has been an advocate for the reopening of schools since summer 2020. He blasted the CDC for the new guidelines, which he says are a disgrace.
"Florida schools are open for in-person instruction. Every single parent in this state has a right to send their kid to in-person instruction. We have done it the right way, we are not going to turn back," DeSantis said.
"What the CDC put out, 5 o'clock on a Friday afternoon—I wonder why they would do it then—was quite frankly a disgrace," he added.
Since last year, the reopening of schools debate has been a heated one between lawmakers, health agencies and parents.
One Caribbean-American educator in South Florida shared her thoughts on the issue, saying there are both pros and cons as a teacher working from home.
"I have a chronic disease that causes me to be compromised, so going back into the physical building would not be in my favor. But I honestly miss it," said Michelle Sayers, a teacher at Crystal Lake Middle School in Broward County. Sayers says she's able to engage more with students in the physical classroom.
The same sentiments were shared by Sharon Lewars, a former teacher at the Pembroke Pines Elementary School, who shared that working from home during the pandemic was necessary for her health but has been hard on her students.
"Sometimes I have parents that text me saying their children didn't copy any work for the day, or that they can't get them to focus or do homework. I don't know how to support that. If they were in the classroom, that wouldn't fly. They'd have to do their work," she said.  Lewars said that despite the challenges of virtual learning, she is against going back into the classroom during the pandemic.
Whether or not to reopen schools has proven to be one of the most difficult decisions to make during the pandemic.  President Joe Biden has urged all American schools to reopen full time, while contradictory, supporting the new CDC guidelines.