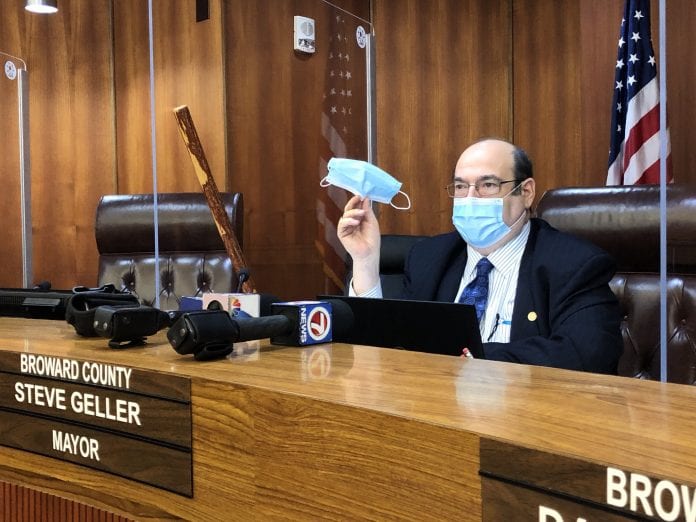 After presiding over one of the most challenging years in recent history,  Broward Mayor Dale V.C. Holness has handed the reigns to newly appointed Mayor Steve Geller, on Tuesday, November 17.
Unlike neighboring Miami-Dade County, the post of mayor in Broward County is largely ceremonial, with the mayor being appointed by his or her peers on the county commission.
However, Mayor Holness' one-year tenure was far from being ceremonial. During the year, he was challenged in coping with the spread of the COVID-19 pandemic; Black Lives Matter protests in the aftermath of the police killing of George Floyd in Minneapolis, Minnesota, and, just recently, severe flooding in the county resulting from tropical storm Eta.
But Holness—the first Jamaican-American mayor in the county— was committed to coping with these challenges. Holness told CNW he had to make the tough but necessary decision to lock down the county, then reopen it, as COVID-19 surged in the summer. "These are unusual challenges, but with God's guidance I will cope." And he did, as attested by many of the residents of the county who expressed the consensus that he did a good job.
"Mayor Holness made me very proud as a Jamaican living in Broward County. He sure served well, and it's a pity he could only serve one term," said banker, Jacqueline Jacques of Miramar.
"Through his leadership, Holness generated much confidence to small business people, like me, during the bad days of COVID. Yes, he did well," said Paul Alvaranga, a small-business operator in Lauderhill.
As Holness hands over the baton, he leaves with a sense of confidence that he served well, reiterating to CNW what he summarized in his departing State of the County (SOTC) address, delivered as he prepared to demit office, "Yes. I am confident I did the job well, with the county on the road to recovery from a difficult year."
In his SOTC address, Holness said of the county, "I would say it is on the road to recovery. A road that will sometimes be straightforward and smooth, and at other times bumpy."
With his one-year term ended, on Tuesday, Holness was again sworn into office to serve as commissioner of District 9—a district he has served since 2010, winning re-election in 2012, 2016, and 2020. He also served as vice mayor in 2018.
The outgoing mayor recalled on assuming the role last November he planned for the ensuing year to be one of "Prosperity for All." But, his plans were dashed by COVID-19 which seriously damaged the county's economy as businesses were forced to shut down.
He noted, "These were unprecedented times. No government had ever told us to stay home, shut down our businesses, leave our jobs. No one had ever told us to stay away from each other."
Among the accomplishments during his tenure as mayor, Holness cited the approval for a Police and Criminal Justice Review Board; approval of $120 million to fund city planned transportation projects under the voter-approved Mobility Advancement Plan, projected to create nearly 1,500 new jobs; completion of the $95-million reconstruction of the North Runway at Fort Lauderdale Hollywood International Airport, that brought payments to small businesses of more than $90 million in ongoing aviation contracts; and the $5.3 billion passed by the county commission without placing any property tax burden on the county's homeowners.
"We know that 2020 will definitely go down in history. It is my hope that it will change history as we strive to build a better, fairer, more equitable future for everyone," said Holness in his address.
Steve Geller
Geller, 62, an attorney, served as vice mayor to Mayor Holness and represents District 5 as a county commissioner. He was elected as a Florida State Representative in 1988, and later to the Florida Senate where he served for 10 years. He was elected to the Broward Commission in 2016.
Geller said one of his first acts as mayor was to send a letter to Florida Gov. Ron DeSantis requesting a statewide mask mandate, saying coronavirus infections in the state and in Broward were getting worse and could increase over the upcoming holidays.
"Until we get the vaccines distributed, there are only two ways to fight COVID—masks, and shutdowns," he said in his address to the county commission.
Michael Udine was also appointed as the new vice mayor.