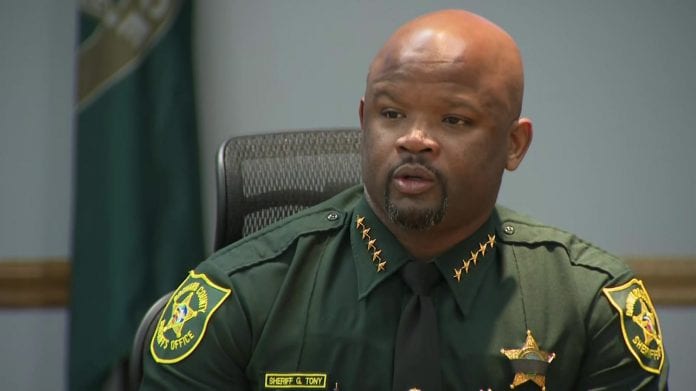 The head of the Broward County Sheriff's Office (BSO), Gregory Tony is urging residents not to be fearful as tension mounts in South Florida and across the United States ahead of Joe Biden's inauguration.
On January 14, more than 20,000 National Guard troops were deployed to Downtown, Washington to secure the U.S. Capitol following the attempted coup on January 6. The center of Washington is also on lockdown due to security concerns ahead of Joe Biden's inauguration. All across the United States, tensions are rising as reports surface about planned demonstrations leading up to the January 20 event.
Many Caribbean and African-Americans have received warning messages from a source claiming to be the NAACP about planned attacks on Black men. But the organization's vice president of Communications, Trovon Williams has dismissed the claims.
"These remain divisive times and mechanisms like this remain as opportunities to bring about fear within our community. The NAACP's position is very clear: we will not be divided and we will not be fearful. Stay home and stay safe," he said in a video posted to Twitter.
What has been confirmed by the FBI is that armed protests are being planned in many states, including Florida. According to the Associated Press, an internal FBI bulletin stated that nationwide protests may start this weekend and extend through the inauguration.
The Broward County Sheriff, Gregory Tony has advised residents not to be fearful of any threats.
"At this point in time, we are tracking and monitoring any type of threat that may introduce itself. I would tell our community here in Broward County that they should feel free to go about their normal activity as our officers are prepared to respond to any type of threat that may present itself," Sheriff Tony said in an interview with CNW Network.
"Any time we've had any kind of threat on US soil, whether domestic or international, the focal point has always been to incite fear. They were not successful on January 6th in terms of the Senate's confirmation of Biden's election win, nor did they introduce an overwhelming level of fear whereas people no longer trust the government or law enforcement to protect them. So go about your normal day on January 20," he added.
The Sheriff has, however, encouraged residents to share any information regarding violent protests and demonstrations that may be planned for Inauguration Day.
"What I will encourage our community to be is should they receive any type of information that suggests any group or individual is planning an attack or disturbance, is to notify our local law enforcement because we're collecting that information and working with our federal partners. Many of these types of insurrections fall within the federal jurisdiction," he explained.
Despite Sheriff Tony's reassurance, some South Florida residents are still anxious about the possibility of violence in the days to come.
"There are a lot of things that we have to take into consideration following the Capitol riot, shared Shelby White, a Broward School teacher. "I'm concerned that we could have an assassination, people getting kidnapped. It's kinda scary," she said.
White said that as a teacher, her main concern is for children who will have to be in physical classes on Inauguration Day.
With more information coming to the FBI, the security efforts are likely to be increased over the next few days. Caribbean-Americans and all other U.S. citizens are urged to stay away from the nation's capital on January 20th.