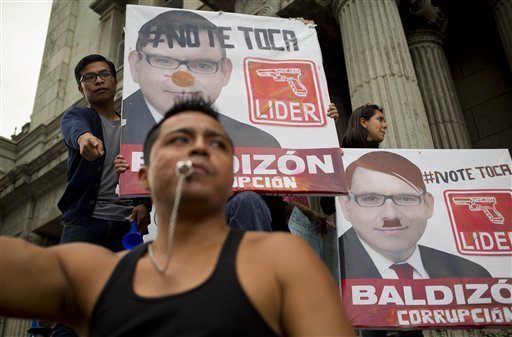 An uncomfortable challenge confronted Guatemala's presidential candidates on Sunday: trying to win the votes of a nation that has put the last elected leader in court custody.
Most are old-guard candidates picked to run before energised prosecutors backed by a mass anti-corruption movement toppled the previous administration. Many voters are so sceptical that they campaigned for the election itself to be postponed to give them a new crop of choices.
Leading in most polls with roughly 30 per cent backing is Manuel Baldizon, a wealthy 44-year-old businessman and long-time politician. His running mate is accused by prosecutors of influence trafficking, but as a candidate enjoys immunity from prosecution.
Guatemalans began heading to the polls after they opened early Sunday to also elect a vice president, members of Congress and the Central American Parliament, and local authorities for 338 municipalities nationwide.
In the presidential race, Baldizon's most competitive rivals were television comedian Jimmy Morales, who has never held elective office, former first lady Sandra Torres and Zulia Rios, the daughter of a former dictator accused of genocide.
If none of the 14 candidates reaches 50 per cent, a run-off will be held October 25.