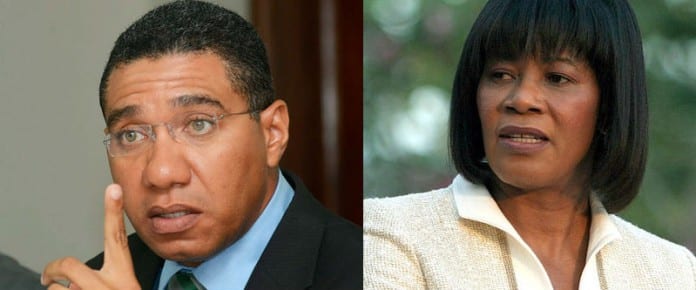 Speculation about a December general election in Jamaica has escalated tremendously, as both major parties, the governing People's National Party (PNP) and the opposition Jamaica Labor Party (JLP) traverse the island holding mass political rallies.
According to a PNP official, who asked to remain anonymous due to the topic's sensitive nature, Simpson Miller is contemplating calling the election to coincide with her 70th birthday on December 12. With December 12 falling on a Saturday, the election date would be held on Monday, December 14, as the Jamaica Electoral office recently expressed its preference for elections on Monday's or Tuesday's, giving the weekend to prepare polling stations and poll workers.
For the election to be held on December 14, an announcement should be imminent. According to the Jamaican electoral regulations, a general election can be called a minimum of 16 days after Nomination Day. Sticking with the December 14 date, if Simpson Miller plans to allow the minimum 16 days for campaigning, Nomination Day would be on or around November 25. With Nomination Day normally a week after the election date is announced, that date would need be by November 18. Therefore a mass rally to announce the election date could be held anytime up to November 18.
Even without knowing the exact election date, there are strong indications the elections are pending sooner than later. Besides the mass political rallies, and the rush by the parties to finalize the candidates representing each of the 63 constituencies, on Wednesday both the JLP and PNP signed a Memorandum of Understanding with the Jamaican Debates Commission to hold three debates between party representatives between Nomination Day and Election Day.
Polls conducted by Jamaican pollster Don Anderson last October showed the two parties in a dead heat, each having 30 percent of the vote. This was positive news for the PNP, as the polls showed a four point increase for the party from 26 percent in July, while the JLP only saw a one point increase.
Speaking with voters in rural Jamaica and the urban Kingston and St. Andrew region, the National Weekly determined strong support for the PNP in rural Jamaica, especially Western Jamaica, while Kingston and St. Andrew remain split between parties. Voters in rural Jamaica, especially those over 50, were solidly in support for Simpson Miller.
"Momma P is for poor people," said Myron Francis, farmer of Walkers Wood in St. Ann. "Things still rough, but there are signs things will improve soon."
But in the suburb of Orange Grove, Upper St. Andrew, 28 year-old Maleek Holt said, "Whoever wins the next election in Jamaica is irrelevant. The country's problems are so entrenched neither party can make any systematic change soon."
However, Holt is leaning toward voting JLP. "I think JLP leader [Andrew] Holness has a better chance of getting strong support nationally and internationally to make attempts at real change."