The world of Caribbean food is one that is rich with a variety of cultural influences. Caribbean food recipes are often taken from a mixture of African, East Indian, Arab, European, Amerindian, and Chinese influences to create the unique blend of Caribbean food.
However, nothing illustrates the signature Caribbean mix of cultural influences like the cheap and tasty morsels sold on street corners, at outdoor markets and at roadside stands.
Each island boasts its own street specialty, and we've narrowed it down to our 5 best Caribbean food dishes.
Pan Chicken – Jamaica
If you ever visit Jamaica, and don't try pan chicken, you have NOT fully experienced the Jamaican culture. If you've ever gotten Jerk Chicken from a roadside vendor who had a barrel propped up and cut open, that's Jamaican drum pan chicken. The difference between 'Pan Chicken' and regular Jamaican Jerk Chicken is in the smoky, savory method of cooking. Some would refer to it as Jamaica's unofficial national dish (second only to the reigning ackee and saltfish). A favourite particularly at night time, the very scent of the smoke produced as the chicken is being cooked is enough to keep locals and tourists wanting more!
Bake and Shark – Trinidad & Tobago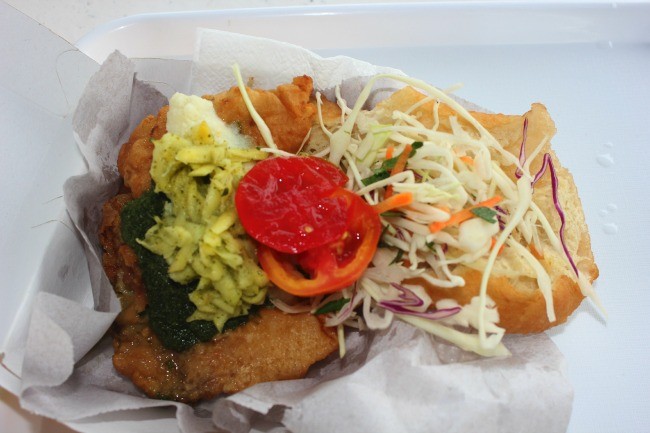 This yummy meal consists of freshly caught shark, deep-fried on fried dough. Along with fresh ingredients, the key to the flavour of Bake and Shark is the condiments. Tourists and locals can get sauces lined up for personalized selection. The most popular to go to condiments include garlic sauce, pepper sauce, tamarind chutney and pineapple.
Fish cakes- Barbados

Similar to the fried cod fritters, Bajan fishcakes are made with saltfish, with a little hot pepper added to the batter. You don't need to leave your hotel or house to try fishcakes in Barbados but head up to the popular Oistins for the town's famed Friday night fish fry to try these tasty, round treats in their ideal setting.