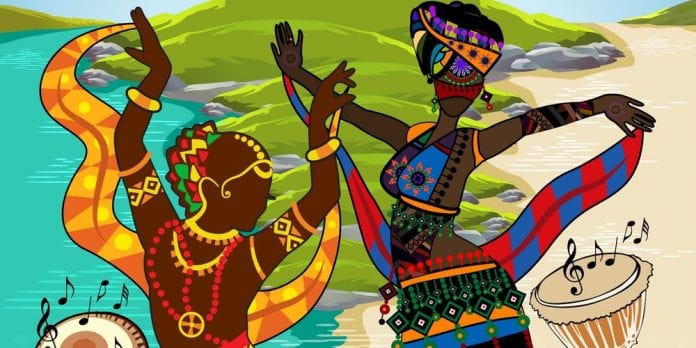 Take a trip through Africa where the Ganges meets the Nile
"Ganges meets the Nile" is a live performance that merges two cultures; the Haitian Afro community, and the Indo Caribbean community, in one location. Brought to you by Jayadevi Arts, Inc., this event is intended to revive and rejuvenate cultures through folkloric dance. Afro-Haitian inspired dancers from the Nancy St. Leger Dance Ensemble delve deep into their rich history, with choreography designed to entice and educate the audience.
The Nile River (also known as the River Nile) is a north flowing river in Africa, and was considered the 'source of life' by ancient Egyptians with its unending source of sustenance. This river is the longest river in the world and flows through eleven countries.  The River Ganges is the longest river in India, and is a valuable support system for wildlife and human livelihood; considered by many as the most sacred river in the world.
This September 10 performance will be accompanied by African drumming and singing of chants. Just like the Nile River in Africa, flowing through and around the continent, the performers of the event will flow through the aisles of the venue, creating a personal, up close experience with the audience.  Interwoven between the African dancers will be the Jayadevi Indo-Caribbean dancers, who like the Ganges, will intertwine through the African dancers.
Sponsored in part by Broward County Cultural Division, State of Florida Division of Cultural Affairs, and Florida Council on Arts and Culture, this experience will incorporate Indian Tassa Drumming with African Drumming and Mocko Jumbie Stilt Dancers. State-of-the-art and professional illustrators and animators will create the scenery on stage to transport the audience to incredible new heights seen for the first time in Florida.
The event will be held at the Miramar Cultural Center, doors open at 6pm. There will be no flash photography and no live streaming or video recording allowed at this event. Price range from $25 to $55 in advance. There will be group, student, and senior discounts available both at the door and online. To purchase tickets online visit  https://tickets.miramarculturalcenter.org/TheatreManager/1/login&event=957