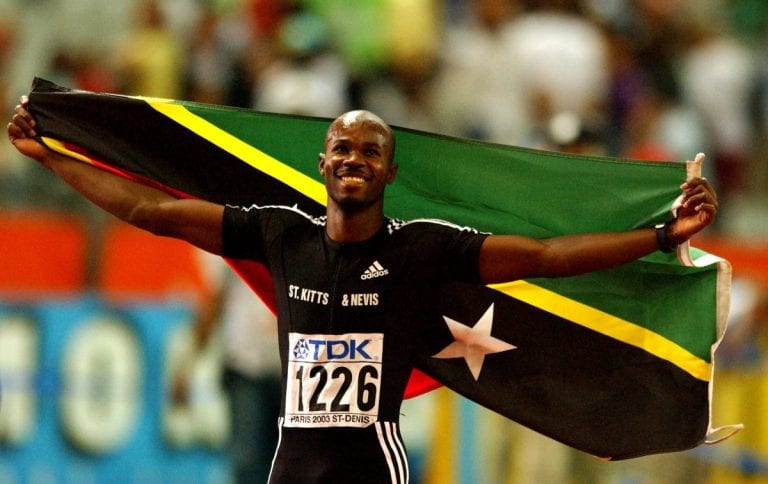 Kim Collins Olympic hopes in peril following injury
Olympic gold for St. Kitts and Nevis Track and Field star Kim Collins may be in jeporady, following news that the 100 meters sprinter sustained injuries at the recent Dimond League Meet in Oslo, Norway.
Fresh from setting a new world Master record of 9.93 seconds in the 100 meters, Collins was leading his race until he had to pull up at the mid-way point due to a cramp on the left side of his groin. Since the meet, Collin confirmed that he would have to withdraw from the St. Kitts and Nevis National Olympic Trials.
"I would like to once again thank everyone for their continued love and support over the years. However, due to a recent injury at the Oslo Diamond League I will not be able to attend the S.K.N National Olympic trials scheduled for June 18th-19th," said Collins in a statement on his Facebook page. "All those competing, I wish you the best of luck."
The 2016 Summer Games in Rio de Janeiro, Brazil, was to be Collins' fifth and final Olympic s. Now forty years old, the sprinter first competed for his country at the 1996 Games in Atlanta, Georgia.
Meanwhile, the St. Kitts/Nevis Amateur Athletic Association (SKNAAA) has confirmed that Collins would not be competing in the national trials, wishing him "a speedy recovery and longevity for the remainder of the 2016 campaign," said Evris Huggins, the Public Relations Officer for the SKNAAA.
However, the Association did not clarify whether Collins has applied for a medical waiver from the championships to select the country's Olympic team. Collins has expressed in the past his goal to become the first 40-year-old sprinter to break 10 seconds in 100 meters sprint event at an Olympic Games.