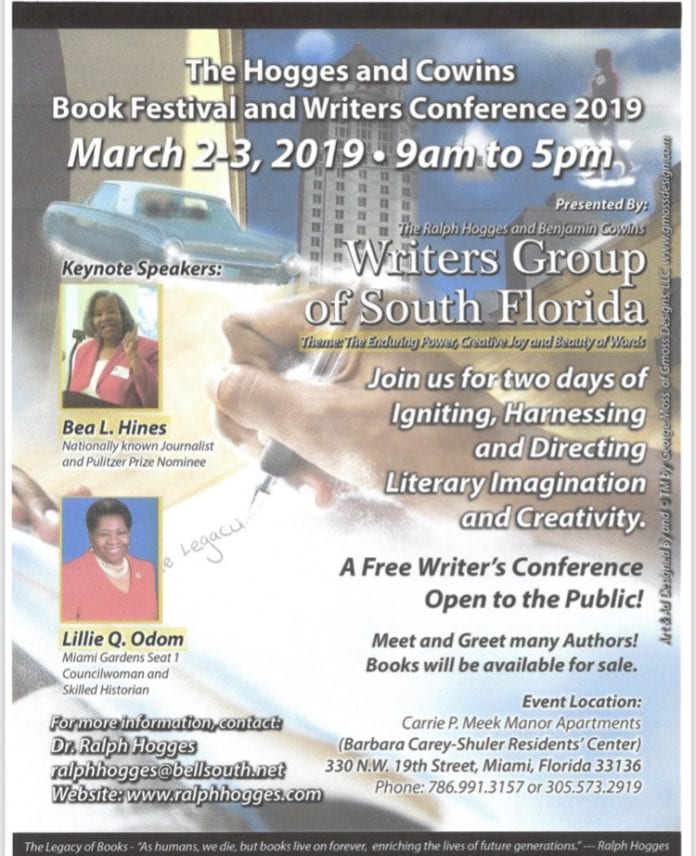 The Hogges and Cowins Book Festival and Writers Conference will be held from : March 2 – 3, at the Carrie P. Meek Manor Apartments (Barbara Carey-Schuler Residents' Center) at 330 N.W. 19th Street, Miami, Florida 33136, with the theme "The Enduring Power, Creative Joy and Beauty of Words."
The event is hosted by the Urban League of Greater Miami, and all the activities and events are free and open to the public
Keynote Speakers
Bea L. Hines
Bea L. Hines was born in Williston, Florida. At a young age, her parents separated, and she moved with her mother to Miami, Florida. She graduated from Booker T. Washington High School.
Hines was always a creative and talented writer, having started writing as a child, creating short stories for her younger brother and writing poetry. In 1966, she was hired as a file clerk in The Miami Herald's library. A year later, she enrolled at Miami-Dade Community College and studied journalism for three years. In June of 1970, she was promoted to general assignment reporter at The Miami Herald, becoming the first African American woman to work as a reporter for the paper.
Hine's work was featured in the education and the "Living Today" sections of the Herald. From 1980 to 1985, she wrote an issues column for the newspaper that garnered much praise. She also wrote other columns for The Miami Herald, including ones entitled "Parenting Again" and "Neighbors in Religion."
Hines is in great demand as a speaker. She has taught and led journalism workshops at several universities, including Savannah State University, the University of California-Berkley, Florida A & M University, and the Memphis State University.
She has been awarded many honors for her writing and community efforts. In 1981, her columns were nominated for the Pulitzer Prize, and, in 1985, she was recognized as one of the top five women columnist in the country by Savvy Magazine. She was a nominee for the Knight-Ridder Outstanding Service Award and was named a Herald Legend in 1994. She was also honored by the Region Four chapter of the National Association of Journalist by being named to its Hall of Fame.       
Lillie Q. Odom
Lillie Q. Odom is a Miami-Dade County resident for over six decades and as of September 6, 2016 is devotedly serving her second (four-year) term as the Councilmember for Residential Seat One (1) in the City of Miami Gardens. Its population is over 113,000 and is the third largest city in Miami-Dade County, Florida and the thirty-third (33rd) incorporated municipality. Her Residential Seat One (1) has approximately twenty-five thousand residents.
Councilwoman Odom graduated from North Dade Junior/Senior High School and was recently inducted into their Hall of Fame. She earned her degrees from Miami Dade College and Nova University. She is a retiree from Florida Memorial University and Miami Dade College (2003) as an Associate Financial Aid Director. She is also a retiree from the City of Miami Gardens (2011); she was the Executive Assistant to the Mayor/Council and Community Outreach Specialist. Her many years of employment included careers in retail, medical, banking, higher education, and government, as well as, entrepreneurial undertakings.
Prior to the incorporation of the City of Miami Gardens, Councilwoman Odom worked tirelessly in her community. As one of the founders of the city, she voted as the Secretary for the City's Incorporation Committee, to pursue the vision and mission.
A pioneer in her own right, she was the first contractual city employee. She was tasked with setting up the first office of the city and was officially the first Executive Assistant to the first Mayor and Council of the City of Miami Gardens. Subsequently, she was the first Community Outreach Specialist, first Staff Liaison selected by the original city council to the Elderly Affairs, and the Commission for Women Committees.
In addition to her elected duties, Councilwoman Odom is the:
Preservationist/Historian of the City of Miami Garden's archives

Founder and motivator of the City's Veterans Affairs Committee

Coordinator and supporter of community groups that specialize in educating and encouraging citizens to live HIV/AID-free and healthy

Advocate for the social improvements for the elderly citizens and youth population

Supporter of the Homeowners Associations and Crime Watch Groups
Councilwoman Odom's leadership skills are esteemed. She is a keen listener and an inspirational teacher. She is a board member for several organizations. Her many recognitions and awards as a professional, volunteer and community outreach specialist is a distinct declaration of her passion for public service. Some of her leisure activities are reading, traveling and commitment to her grandchildren.