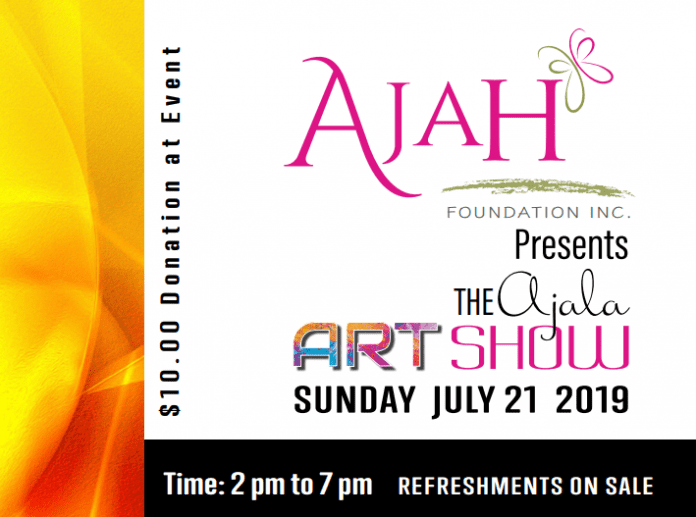 MIAMI, Florida – The AJAH Foundation will host its fifth Annual Ajala Art Show on July 21, 2019, at the Toe Jam Backlot in Miami's Wynwood Art District.
Through art show events, AJAH Foundation, a non-profit organization, raises awareness and funds for local charities which promote Health and Education.
A diverse selection of painters, photographers, performance artists, mixed media creators, live art exhibitors, jewelers, poets, and authors have displayed their work at past shows, and this year's show is expected to draw the same crowd of talented creatives.
Artist, Nancy De Castro describes the event as, "Best Art show I have ever attended. Very well organized. The people who participated were the most friendly, talented people."
In partnership with corporate sponsors TD Bank, Vital Dental Center, and Costco, this year's charitable focus is on Shadowlawn Elementary School, a public school (PreK-5) comprised of 232 students with a 3-star rating. Located in Little Haiti, Miami, the Foundation's goal is to provide Shadowlawn's students with essential supplies and to expand the school's library.
Carol Ray, Founder of Gateway Community Outreach, a past beneficiary of the Ajala Art Show states, "It is encouraging to partner with your Foundation. I truly believe that through your compassion and vision, AJAH Foundation will help us to promote awareness about how vulnerable many Broward families are and the unexpected situations that can lead to hunger and homelessness."
Dr. Keith Williams of Vital Dental Center, past and current sponsor of The Ajala Art Show states, "I am impressed with the wide range of art medium and the efforts of the Foundation, and encourage all locals to come out for the next show".
Over the years, AJAH's events benefited these other worthy causes: Meals on Wheels of South Florida, Gateway Community Outreach, Shak's Hope Sickle Cell Foundation, and Sickle Cell Wellness Group.
Event Organizer and President of AJAH Foundation, Lorna Williams says that she is committed to shining a light on worthy charitable causes and improving the lives of citizens in Florida for years to come.