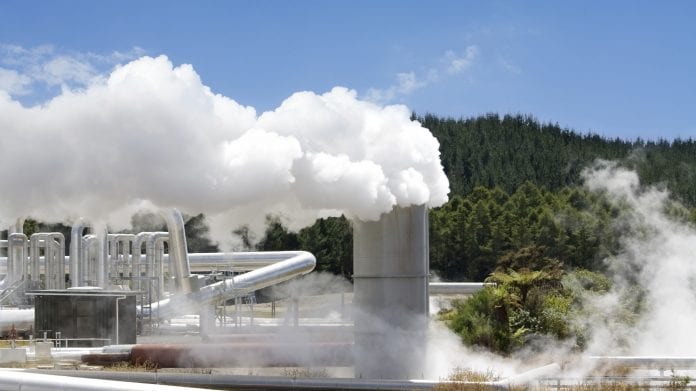 Prime Minister Timothy Harris and Minister of Energy Ian Liburd, attended the U.S.-Caribbean-Central American Energy Summit in Washington, D.C. last week to discuss the country's geothermal progress with key stakeholders. 
"During the day-long meeting on May 4th, Prime Minister Harris highlighted the Federation's significant progress in developing its geothermal resources and further emphasized Nevis' laudable advancement towards achieving a green economy rooted in renewable energy," Mr. Justin Hawley, Counselor at the St. Kitts and Nevis Embassy to the United States of America, said.
Mr. Hawley added that, "Before a packed room that comprised Summit delegates, U.S. Government officials, international partners and CEOs of influential private sector companies, such as New Fortress Energy, Tesla and SolarCity, the Honourable Prime Minister outlined the importance of forging partnerships for investment in renewable energy to decrease the Federation's dependence on fossil fuels.  Then on the margins of the Summit, the Prime Minister and Minister Liburd met with Mr. Daniel Pfeffer, President of Thermal Energy Partners, to discuss that company's ongoing involvement in Nevis' nascent geothermal project."
On November 20th, Texas-based Thermal Energy Partners, LLC, acting through its subsidiaryNevis Renewable Energy (NRE) International, entered into a 25-year Power Purchase Agreement with Nevis Electricity Company Limited (NEVLEC).  The PPA worth approximately US$800 million is in connection with a 9MW geothermal project on Nevis that is capable of exporting 40-50 MW of additional power to St. Kitts and other neighbouring islands.  NRE International, the developer, has chosen Turboden, a group company of Mitsubishi Heavy Industries, Ltd., to be the turbine supplier and the engineering, procurement and construction (EPC) contractor for the project.  The geothermal project is on target to begin operation at the end of 2017.
Prime Minister Harris and Energy Minister Liburd were in D.C. to attend the  the U.S. Department of State, which convened key stakeholders to discuss recommendations of the U.S.-Caribbean-Central American Energy Security Task Force.