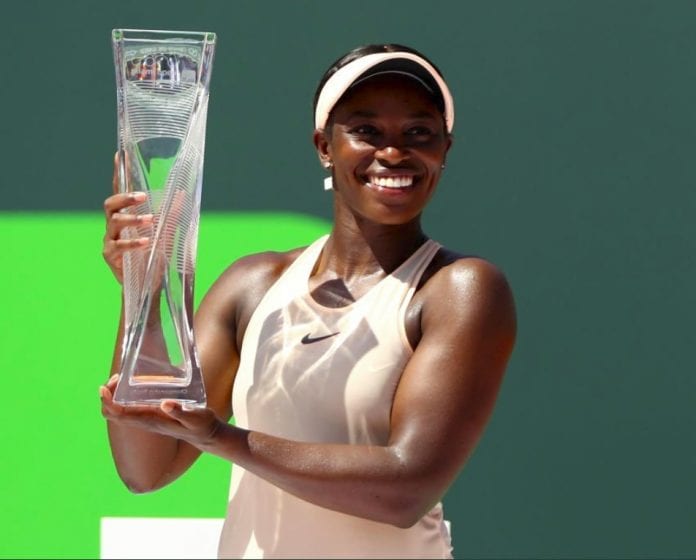 South Florida native Sloan Stephens won the Miami Open at the Crandon Park Tennis Center at Key Biscayne on Saturday.  Stephens, an African American from Fort Lauderdale won the finals by defeating sixth seeded Jelena Ostapenko of Lativa 7-6 (7-5), 6-1.  
This was the last Miami tournament paled at Crandon Park, as the popular South Florida tennis tournament will be played at a new venue close to the Hard Rock Stadium in Miami Gardens as of 2019.
Following her victory, her first Miami Open title, she said she was "definitely happy to be the last person to win here. I just feel fortunate I was able to do this here in South Florida with all my e friends and family watching."
With her win Stephens move from the 13th seed to the top 10 women tennis bracket internationally for the first time. She now ranks at number 9. She said she was "super excited" to be in the top ten, an achievement which she said she "wanted for a long time."
Stephens he has now won seven singles titles, including her first Major at the 2017 US Open. With that victory, a great comeback victory as she had been sidelined for the previous 11 months with a foot injury, she surprised the tennis world as she was ranked as the 83rd seed. Winning the US Open made her the lowest ranked player to ever win the women's singles title and the first American woman apart from Venus and Serena Williams to win a Grand Slam since Jennifer Capriati in 2002. Stephens was awarded WTA Comeback Player of the Year in 2017.
She has also reached the semifinals of the 2013 Australian Open, defeating Serena Williams in the quarterfinals, the quarterfinals of the 2013 Wimbledon Championships and won her first title at the 2015 Citi Open. Stephens holds a career-high singles ranking of world No. 11 which she achieved in October 2013.
After the US Open her form lagged as she lost her next eight matches, but again she rebounded to win a major title, this time in Miami.