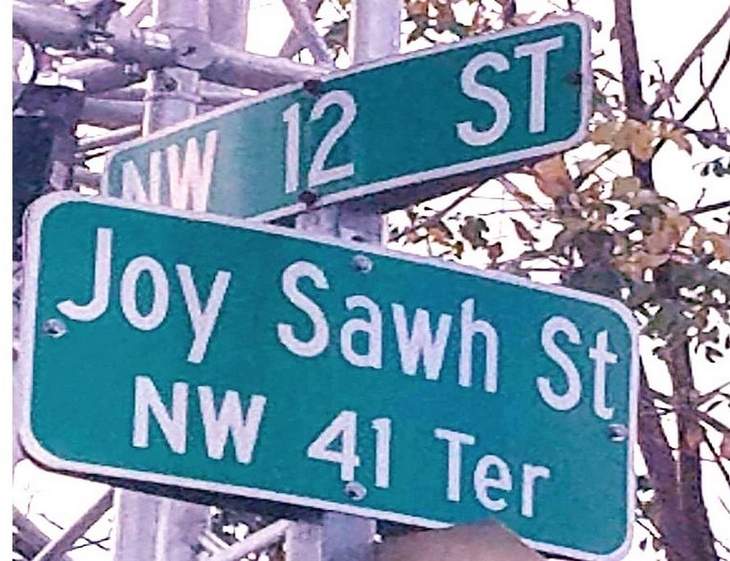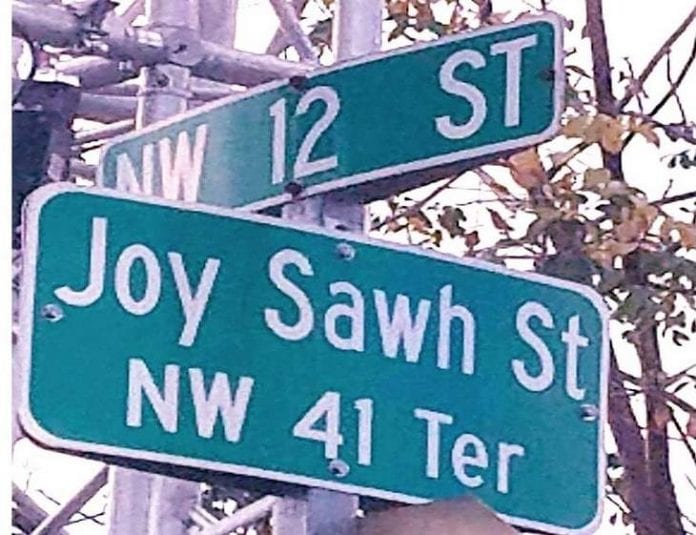 Residents of Lauderhill gathered to celebrate the renaming of NW 41 Terrace to Joy Sawh Street, to honor the memory of late Trinidadian-American businessman, philanthropist and founder/owner of longtime restaurant landmark, Joy's Roti Delight. Though the move was generally hailed by locals, some Jamaican residents are arguing that the decision "was a political move."
That's what 33-year Lauderhill resident Jamaican Harriet Burgess argues, following news of the announcement.
"This was a move by city politicians to woo support of other Caribbean residents in the City," says Burgess. "With the large Caribbean population in Lauderhill, they take Jamaicans for granted. Several Jamaicans have run successful restaurants and other businesses in Lauderhill. Why not name a street after them? Why not name a street, Jamaica Street? And I strongly believe the city should have allowed the citizens to vote on renaming the street at a commission meeting, and not make its own decision."
Lauderhill Commissioner Howard Berger said, however, that the decision to rename the street followed all protocol, and was voted on publically.
"The commission voted favorably on a resolution made by Commissioner Margaret Bates to rename the street at a commission meeting," said Berger, "which like all commission meetings was open to the public."
Jamaican business Marlon Jackman, a friend of Sawh who traveled from Trinidad to South Florida for the renaming ceremony, expressed disappointment over the discord, arguing the attitude is just an extension of the current trading dispute between the two nations in the Caribbean.
"Don't tell me the dispute between Jamaica and TNT over immigration policy has spread to the Diaspora?" says Jackman. "I see absolutely no bias with the City honoring a prominent, late resident. It's customary to name streets after late prominent residents, not those who are alive."
Jackman, who lives with his Trinidadian wife, and two young sons in Port-of Spain, believes the media image of a rift between Jamaicans and Trinidadians "is absolutely invalid." He cites that there are several Jamaicans "living and coexisting peacefully" with Trinidadians throughout TNT, "just as how several Trinis are living here in South Florida in peaceful co-existence with Jamaicans and other Caribbean people. It makes no sense for a few people, and the media, to try and create unnecessary rifts between Jamaicans and Trinidadians. How can anyone make naming of a street for a prominent Trinidadian businessman be an issue puzzles me."
South Florida's Guyanese-American businessman Wesley Kirton said it's vital for Caribbean nationals in the Diaspora to unite "more than ever, especially based on adverse comments made by some candidates running for U.S. president. We need strong CARICOM Unity. Jamaicans and Trinidadians in the Diaspora should be enjoying each other's food, music, and sport activities, rather than engaging in trivial disputes."
Sawh who died in 2014, has been described by his customers, associates, and citizens of Lauderhill, including City of Lauderhill Mayor Richard Kaplan as one who "gave of himself not only with food and hospitality, but often with heartfelt advice and many times, with his own time and money. He extended himself with countless resources to the needy and did so very quietly."