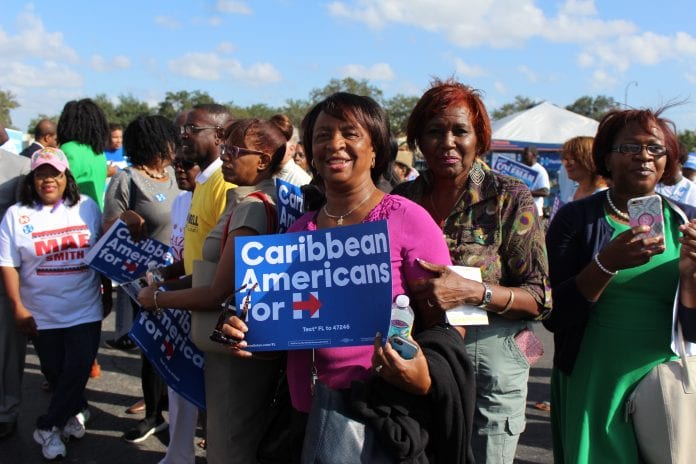 Solid Caribbean-American support for Hillary Clinton
Garth A. Rose
It's no secret that the majority Caribbean immigrants to the USA who are registered. A 2015 survey conducted in the Tri-State region of New York, New Jersey and Connecticut, Florida, Georgia, North Carolina states with large Caribbean-American communities, indicated that 82 percent were registered Democrats.
Another survey conducted in April this year, months before Hillary Clinton was formally nominated as the Presidential nominee of the Democratic party, 74 percent of Caribbean-Americans who are registered Democrats indicated they would vote for Clinton in the presidential elections.
Caribbean-Americans are not only showing their support for Clinton as voters, but several are directly involved in her presidential campaign.
In South Florida, hundreds  of Caribbean Americans are working as volunteers knocking on residents doors and manning phones encouraging residents to vote for Clinton; others have volunteered to transport people to the polls to vote, and involved in various other get out the vote activities.
According to the website newsamericanow.com, in Clinton's national campaign there are two Caribbean American women, Maya Harris and Neisha Blandin, who are among several Caribbean-Americans who have key roles.
Harris, of Jamaican heritage, is the sister of another influential Jamaican-American, Kamala Harris, California attorney general and current Senate candidate, Kamala Harris. An attorney who graduated from Stanford University, Maya is instrumental in shaping the policies Clinton focus on in her campaign speeches, and the policies she outlined during the primary election and presidential election debates.
Blandin, a native of Trinidad and Tobago has been functioning as the Clinton campaign Deputy Director of Grassroots Engagement since last July.
One of the strongest themes why Caribbean Americans continuously support the Democratic Party and Democratic presidential candidates is immigration reforms.
Of course, the Caribbean American community is an immigrant community. Caribbean migrants have been coming to the American from the 17th century, and although there have been fluctuations in the wave of incoming immigrants, Caribbean people have never stopped from seeking to migrate to America. Caribbean-Americans eagerly support policies supported by the Democratic Party to reform America's immigration laws to provide and easier path to work in America and eventually become US citizens.
America remains a dream to Caribbean people, as they migrate America seeking a better standard of living including higher paying jobs, advanced higher education for themselves and their children, and purchasing a home.
The Caribbean Diaspora in America is critical to the economic welfare of the Caribbean region. The diaspora remits billions of dollars to the region annually, and provide a very critical export market to Caribbean businesses.
There's great concern among Caribbean-American voters that the persistent anti-American rhetoric of Donald Trump from the first day he announced his presidential candidacy n 2015, threatens the advantage immigrants from the Caribbean and elsewhere have gained in America. It is feared that not only would his policies have a negative impact on the Caribbean-American community, but would have a negative impact on the Caribbean region.