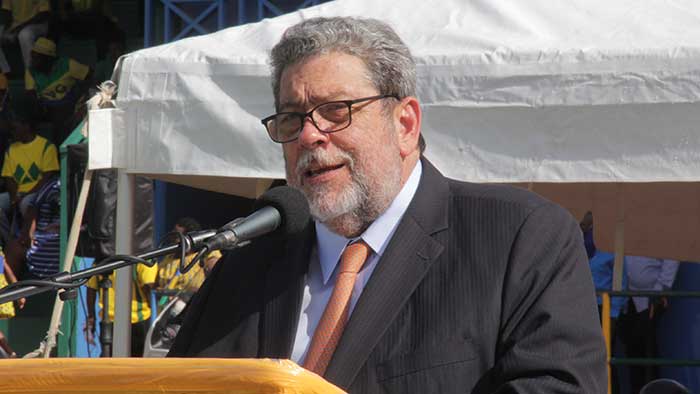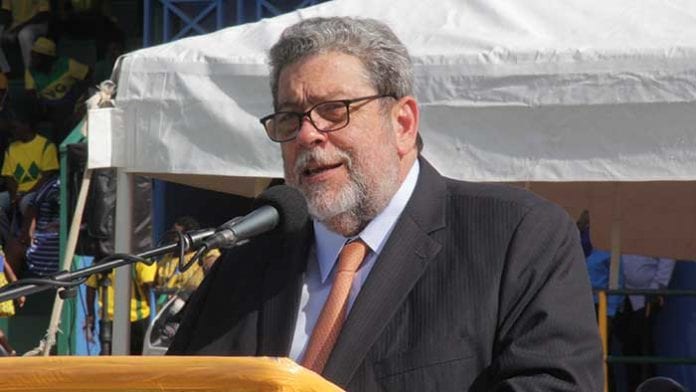 Prime Minister Dr. Ralph Gonsalves on Tuesday outlined a series of promises, some new, to the nation, as St. Vincent and the Grenadines celebrated its 41st anniversary of political independence from Britain, nine days before voters here elect a new government on November 5.
Amidst the coronavirus (COVID-19) pandemic, St. Vincent and the Grenadines, a relatively small crowd turned out at Victoria Park to witness the military parade in celebration of the event.
As has been the norm in recent years, Gonsalves used the occasion to announce a series of "goodies" that be beneficial to citizens.
"First, as of January 1, 2021, a provision will be made in our budget to ensure the appointment of all public servants who are university graduates as we have been doing year by year for all the graduate teachers. This initiative will benefit directly over 100 persons," Gonsalves said.
Gonsalves said that from January next year, all persons employed in the public service as temporary workers will be appointed permanently, so long as they have the entry qualifications for the position.
"This is a complicated but just exercise. It is the right thing to do and it will be done," he said, adding that his government has "recognised that a wrong, of sorts, was done to some former nursing assistants who retired before October. 27 2015, when nursing assistants were accorded pensionable status.
"I am correcting this. Thus all former nursing assistants, who retired before October 27, 2005, will begin to receive their pension from the Consolidated Fund in accord with an effective date January 1, 2021. The pandemic of COVID-19 has brought this vexing matter to the fore."
Gonsalves also announced that persons on public assistance (welfare) will receive an increase of EC$25 (One EC dollar=US$0.37 cents) in their monthly payments, beginning January next year.
"Those under 65 years, who currently receive EC$250 monthly, will receive EC$275 and those 65 years and over will have their public assistance rise from EC$275 to EC$300 monthly. This is in keeping with our government's policy to strengthen the social safety net for the poor and the elderly.'
Prime Minister Gonsalves also restated his government's policy that 600 persons who were added to a special COVID list for an EC$200 monthly payment up to the end of December 2020 will be made permanent on the public assistance list from January 2021.
"Our government will continue to protect and uplift the elderly poor," Gonsalves said, adding that casual, temporary or part-time non-unionised workers across the central government will receive up to a further 25 per cent increase on their wages from the start of next year.
"This measure will provide further support to an often forgotten but important group of workers," Gonsalves said, adding that the government has devised a full programme "to assist in protecting and uplift in another important but oft-forgotten group — domestic employees in households.
"These employees, mainly women, deserve our full support in every material particular, legal and otherwise. The year 2021 will be proclaimed by my government as the year of the oft-forgotten casual and domestic worker."
Gonsalves said that interest on economically disadvantaged student loans from the academic year 2021 to 2022, interest on new and student loans, including those with interest arrears, will be reduced to six per cent.
He said this is in accordance with "the amended sustainable metrics from the National Insurance Services regarding the investment of the NIS funds on this portfolio", re-stating his administration's wavier of interest on existing loans, for one year from October 1 2020 to August 31 next year.
"This will cost the government in excess of $2 million. This interest waiver, not a moratorium, and a reduction of interest are measures designed to alleviate hardship due to the COVID-19 pandemic," Gonsalves said, adding that the 2020 actuarial review of the NIS is expected to be concluded before the end of the year.
"I am hopeful that the review will recommend an increase of the minimum pension at the NIS which recommendation I will accept," Gonsalves said.
The prime minister also announced that 15,000 eight-inch table computers will arrive in the country on Wednesday for students and teachers, as well as the three new sports ambassadors and four cultural ambassadors.
The sports ambassadors include West Indies cricketers, Sunil Ambris and Keswick Williams.
CMC