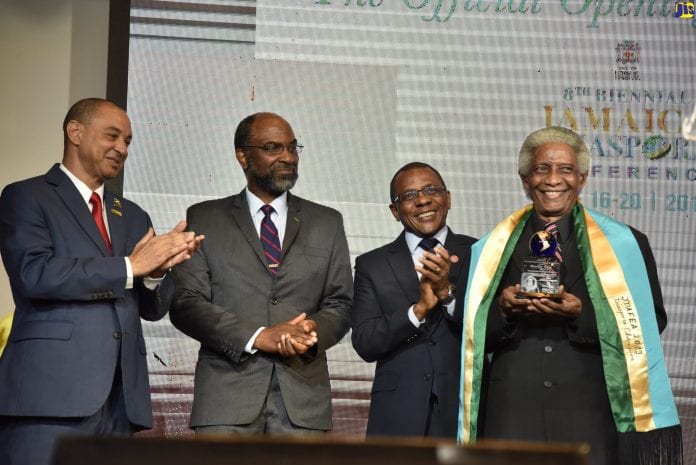 On February 14th, nominations will open for the Jamaica Diaspora and Friends Champion Awards (JDAFCA): The first global and virtual Diaspora peer award with completely online public nominations and public voting.
The award was first launched in 2017 at the 7th Biennial Diaspora Conference and was created to recognize individuals and organizations in the Diaspora as well as friends of Jamaica who make exceptional contributions to the development of Jamaica.
The first Champion, Neville Ying, was awarded at the 8th Biennial Diaspora Conference in Jamaica in 2019 for his contributions to the growth and development of the Diaspora movement.
This year, the pandemic has created new opportunities to expand the delivery and reach of the awards. For the first time and moving forward, the Awards will be global, virtual, and completely online with public nominations and public voting; Commencing with a virtual awards presentation.
Nominations can be made by sector: Agriculture, Arts and Culture, Behavioral & Mental Health, Citizen Security & Safety, Education, Entrepreneurship, Environment & Climate Resilience, Faith-Based, Health, Legal Sector, Media, Technology, Youth Leadership, and General.
Winners will receive global recognition and a variety of virtual awards including an addition to the Jamaica Diaspora Wall of Fame and the JDAFCA Winners Circle. All nominees will receive an honorable mention.
Nominations will open on Sunday, February 14th, and close on Sunday, February 28th. Winners will be recognized at a Virtual Awards ceremony on Sunday, June 13, 2021, and announced via the media, globally on Diaspora Day, annually, moving forward.
The Jamaica Diaspora and Friends Champion Awards (JDAFCA) is presented by the Jamaica Diaspora Taskforce Action Network (JDTAN).
JDAFCA Chair and JDTAN Operations Officer, Kimone Gooden, noted that "JDAFCA was created to show the details of the depth and breadth of the contributions of the  Diaspora and friends of Jamaica. It is a peer recognition that will highlight the many individuals and organizations who are actually delivering service to Jamaica but generally go unrecognized."