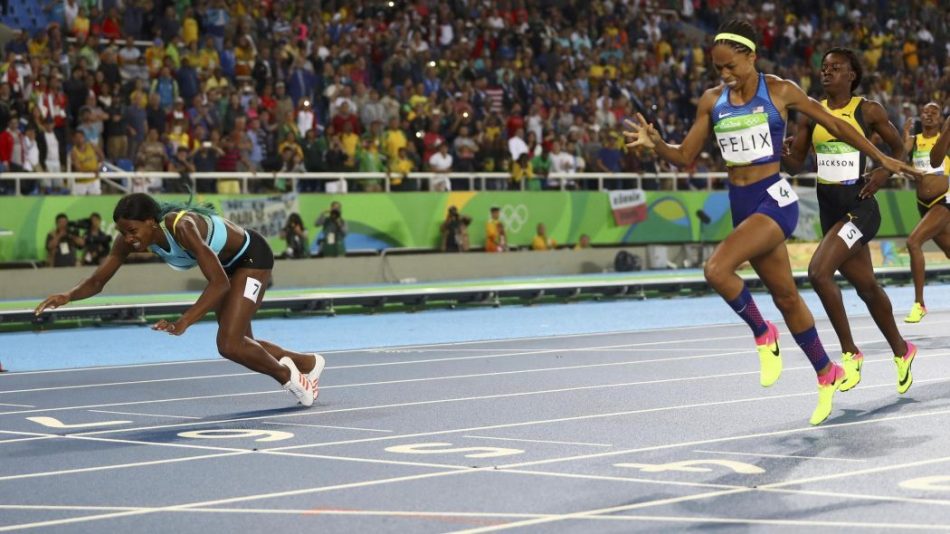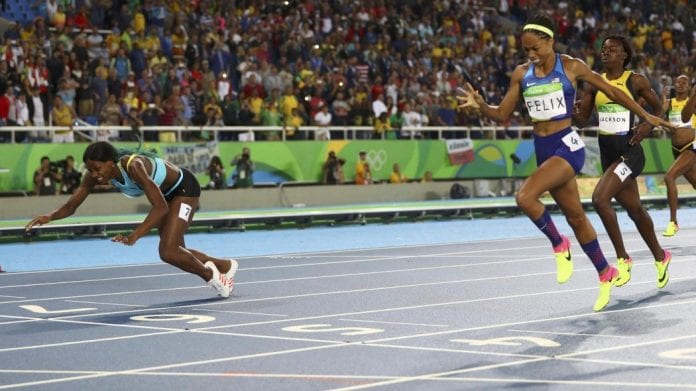 Shaunae Miller of the Bahamas won Gold in an unorthodox way during the 400 meter race Monday night. Miller who was neck and neck to American Allyson Felix, dove, or fell, across the finish line beating Felix by .07 seconds.
It looked as if Felix had won in real time but Miller was declared the winner in the results of the video slow motion.
The International Association of Athletic Federations (IAAF) rulebook states:
"The athletes shall be placed in the order in which any part of their bodies (i.e. torso, as distinguished from the head, neck, arms, legs, hands or feet) reached the vertical plane of the nearer edge of the finish line" (Rule 164, IAAF Rules 2006-2007). Meaning, yes, a dive is legal and the Gold medalist for the athlete stands.
The 22-year-old Bahamian worked hard through the lap in lane seven and led the race coming around the bend. As the world champion tied, Miller launched herself over the line to take victory in a new personal best of 49.44s. The verdict of whether Miller was falling and managed to make it over the line, or whether the dive was in an attempt to win the race, is still out.
Felix, 30, won Silver in the run with a time of 49.51 seconds. Jamaica's Shericka Jackson took home bronze. Felix had hoped to be bidding for a 200 meter and 400 meter double in the Rio Olympics, but failed to qualify for the U.S team after struggling with an ankle injury earlier in the season.
On social media, people have taken to accusing Miller of cheating. What people fail to see is that falling over the line, although not a regular occurrence, happens in many races. Last month at the U.S. Olympic trials in Oregon, Felix finished in fourth place in the 200 meter run beat out by Jenna Prandini, who fall across the line won her the spot.