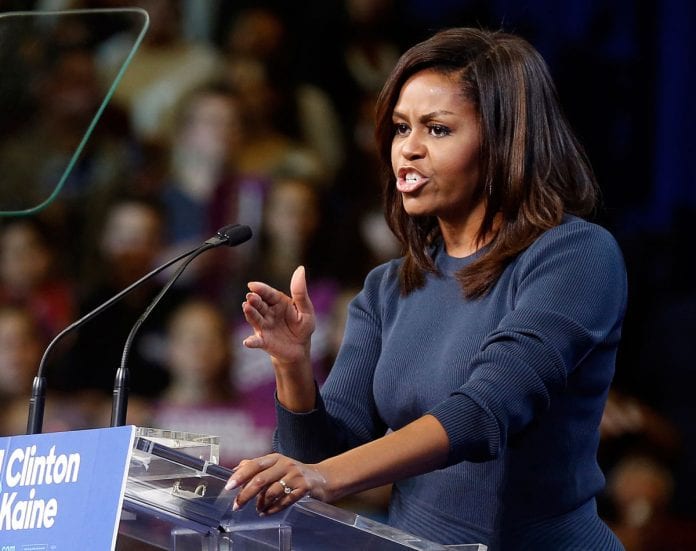 Former first lady, Michelle Obama, brought the message of #BeAVoter to South Florida Friday.
Mrs. Obama was at the University of Miami's Watsco Center to rally Democratic voters in the state who have until Oct. 9th deadline to register to vote for the November 6th election.
National tour
Her arrival in South Florida is part of a national tour by the organization 'When We All Vote,' which she co-chairs. The appearance will cap off what the organization has billed as a "week of action," after holding voter registration drives across the country from Sept. 22nd to Sept. 29th.
This is the second appearance Mrs. Obama will make on behalf of the organization, which also has as its co-chairs: actor Tom Hanks, "Hamilton" creator Lin-Manuel Miranda, NBA player Chris Paul and the singers Janelle Monáe, Faith Hill and Tim McGraw.
She held a rally Sunday in Nevada, where she told about 2,000 voters: "We get the leaders we vote for. We get the policies we vote for. And when we don't vote, that's when we wind up with government of, by and for other people."
Trying to appear non-partisan
Although her husband, former President Barack Obama, has made campaign stops pushing for Democratic turnout, Michelle Obama has attempted – somewhat unsuccessfully – to make her appearances non-partisan. Rallygoers in Nevada cheered her husband when his name was mentioned, and she jokingly told the audience "Stop this" when one yelled she should run for president.
Mrs. Obama also released a PSA for the group, reminding Americans of "What's At Stake" in each election.
Hold leaders accountable
"This election is your chance to hold your leaders accountable," she stated. "It's how you make your voice heard on everything from your kids' education to the safety of your community. So there is a lot at stake this November, and in every election", said Mrs. Obama. The PSA will run on digital platforms across the country over the next few weeks, as voter registration deadlines near in many states. The campaign also recently launched its text message campaign which allows people to text WeAllVote to 97779 to register to vote."