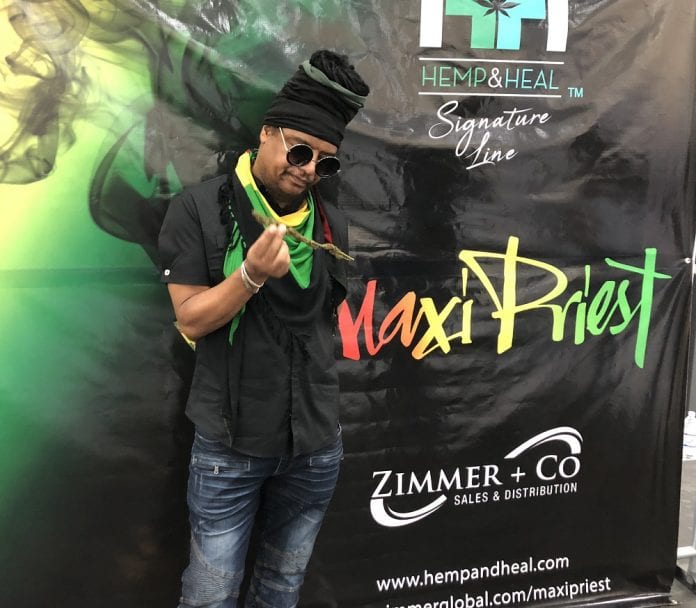 Attendees at the recent CanEx Jamaica conference in Montego Bay were treated to Maxi Priest's surprise launch of a new cannabinoid (CBD) oil-infused line of healing products for pain management. The international reggae star partnered with Boca Raton-based Hemp and Heal to produce a line that kicks off with a sports gels and vaporizer product.
All-natural products
The CBD-oil infused products are all-natural and made from 100 percent American-grown hemp. They can be used to provide relief from back and neck pain, arthritis, muscle strain, bruises, and sprains.
Important for the diaspora to learn more
In a recent exclusive interview with CNW Network, Maxi said it was important for members of the diaspora to learn more about cannabis industry and discover new opportunities to get involved.  
"I want to see what is going to happen to this special plant," said Maxi Priest.  "This CanEx thing is only once a year and it's a place where a whole lot of people are going to gather for information and for the understanding of what we're doing with this herb business-wise. This platform is unique. We have to make a move."
"Cannapreneurs"
The third annual CanEx Jamaica was held at the Montego Bay Convention Center featuring Montel Williams and former Mexican President Vincente Fox as keynote speakers. The conference provides an opportunity for local "cannapreneurs" to connect with potential investors, researchers and other partners seeking to expand the cannabis industry worldwide.
Hemp and Heal manufactures its products in a federally FDA-approved facility that produces and extract hemp products for public use and consumption. The product will be distributed by Zimmer & Co.
For more information or to purchase the products, visit www.hempandheal.com.
Written by Natalie Greaves