Trinidad and Tobago's Police Public Information (TTPPI) Officer Michael Jackman has reinforced information he provided last week that it's an assault to touch someone without their consent and could lead to arrest. This policy is to be enforced during the upcoming carnival celebrations which peak on Tuesday, February 13. He cautioned fete goers not to heed soca star Machel Montano's advice to disregard the police advisory.
Jackman cautioned anyone, especially those with influence over others, to be cautious when saying things that can  mislead the public and thereby create disorder in society.
During his Carnival 2018 stage debut at Tribe/Red Ants' Stumped at Queen's Park Oval, on Saturday night Montano told the crowd: "They say yuh could get lock up for thiefing a wine. Allyuh forget that, find somebody to jam. This is Carnival. They will have to lock up the whole of Trinidad and Tobago."
Jackman noted he was not privy to what was said by Montano, but cautioned anyone looking to incite disorder to breach our laws.
He said, "Gyrating on someone is also considered touching the person. Whether it's a Carnival function, or any other function in or outside of the Carnival season, and someone says no by word or by action to a typical type of behavior then the other person who is about to, or is already engaged in that sort of behavior, should cease. If continued, the behavior is an assault."
Jackman said, "I want to make this clear. It's important to respect any female's right to say no to any physical touching in or outside the Carnival season, and that is the position of the T&T Police Service."
Several people on social media expressed opposition to the police advisory.
Irresponsible says Womantra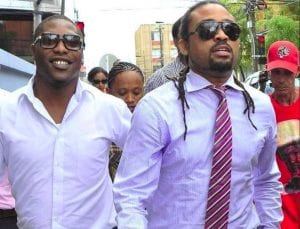 The founder/co director of the T&T activist group Womantra also condemned Montano's advice.
"It was completely irresponsible for one of our most talented and recognized soca artists to use his platform not only to disregard provisions in the law that grant individuals protection from unwanted physical advances, but to suggest that a man's 'right to wine' is more important than a woman's consent," she said.
"It would be wise for Mr. Montano to remember his own brush with the law for physical assault before he advises anyone. His own distaste for strangers approaching him at Carnival for wine, conversation, autograph or otherwise is also well known. We can no longer allow rape culture to masquerade as national culture. A woman's body is her own, on Jouvay morning and on Carnival Monday and Tuesday too. I have already committed to personally handing out Permission Slips when on de road for Jouvay this year. I've been inspired to add the title, "YA COULD GET CHARGE FAH WINING LIKE DAT, YOU COULD MAKE A JAIL!"