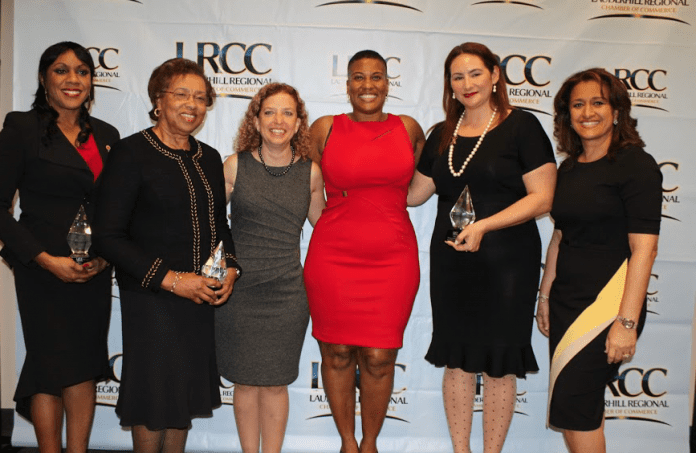 Women awarded for their professional and philanthropic contributions
From climbing Mount Kilimanjaro to holding public office, the 2016 winners of the Lauderhill Regional Chamber of Commerce (LRCC) "Women of Distinction" honorees were a true testament to leadership in Broward County. These ten extraordinary women were awarded for their professional and philanthropic contributions at the recently held awards breakfast at the BB&T center.
In honor of March as Women's History Month, the event was a true display of female talent, beginning with a stirring rendition of the National Anthem by Lauren Carter and a special performance by musical artist, entertainer and singer/songwriter April RaQuel. The Keynote address was delivered by Congresswoman Debbie Wasserman Schultz, who praised the awardees for their valuable contribution to the county.
"To be in your company is to stand in awe of what each and every one of you do," said Congresswoman Wasserman-Schultz in her address. "It's so important to underscore what women are doing in this community to make a difference."
The Congresswoman also praised the awardees and the many illustrious attendees at the event for their visible commitment to promoting equal opportunity for women in the workplace and in community leadership.
"Our goal here at this luncheon is much larger than anything we could accomplish on our own," said Wasserman-Schultz. "[We need] the equal opportunity to connect, to lead and succeed in all sectors. From the boardroom to the storeroom, we need gender parity in this country. We must take responsibility not to just celebrate our success but also lift up others. As we rise, we have to make it our personal responsibility to reach behind and bring another woman up with us."
This year's awards included: Nicki E. Grossman, President and CEO of the Greater Fort Lauderdale Convention & Visitors Bureau; Pauline Grant, MS, MBA, FACHE, CEO of Broward Health North; Alice E. Ancona, Director of Global Outreach, Florida Chamber of Commerce; Dr. Lanalee Sam, Medical Director of Women's Services, Florida Medical Center; Michelle Austin Pamies, Partner, Austin Pamies Norris Weeks, LLC; Captain Josefa Benjamin, Broward County Sheriff's Office; Maria Munro, CEO of Unique Productions International; Danielle Knox, WSVN Channel  7, News Anchor and Entrepreneur; and Dr. Celia Earle, Governor, Kiwanis Florida Division, and Vice President at Brown and Caldwell.
A special "Woman of the Year" distinction was also awarded to Nicki Grossman for her 30 plus years of service with the Greater Fort Lauderdale Convention & Visitors Bureau.