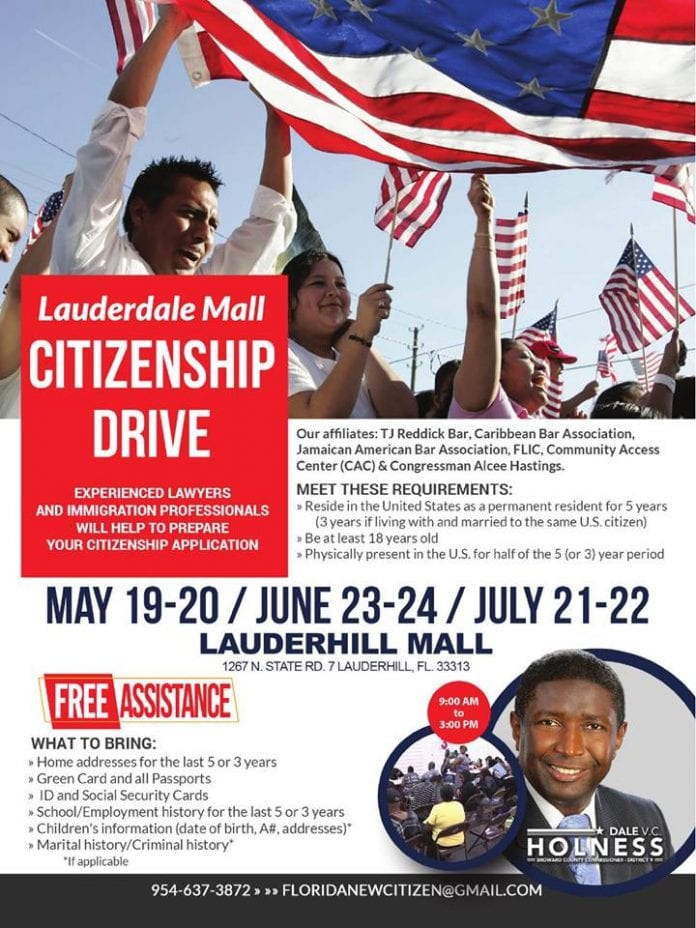 This Saturday, July 21st and Sunday, July 22nd, Broward Commissioner Dale Holness spearheads a FREE citizenship application drive at the Lauderhill Mall, Lauderhill, Florida.
Immigration attorneys will be on hand to assist applicants with the process at no charge.
Florida Immigrant Coalition (FLIC) and Community Access Center (CAC) has been collaborating with the commissioner in bringing this very important service to at no cost every month. Through this initiative over 3,000 individuals have applied for citizenship to dat.
To apply for citizens those who are eligible should visit the Lauderhill Mall at 1267 N. State Road 7 Lauderhill, FL 33313. Please enter near the MetroPCS entrance. The Citizenship Drive is from10 a.m. to 3 p.m. 
Requirements
Applicants must be at least 18 year-of-age, be permanent US resident who have resided in the US for 5-years (3 years if the applicant is married to and living with the same US resident, and have lived in the US for half of the 5 or 3 years period.
Documents to bring
Home addresses for the last 5 or three years (whichever is relevant);
Green card and all passports;
ID and Social Security cards
School/employment history for the past 5 or 3 years.
Children information
Marital history
Criminal history
Application fee waiver
Applications may qualify for a fee waiver and not required to pay the required citizenship application fee if they receive public benefits like Medicaid or Supplemental Nutrition Assistance Program (SNAP) formerly known as the Food Stamp Program. Applicants on these programs should also bring their letter of eligibility. Applicants may also receive a fee waiver if their annual income meets the following income guidelines:
Single –                       $18, 210
Household of two  – $24,690
Household of three –   $31,170
Household of four   – $37,650
To verify income applicants should bring their two last pay stubs and most recent tax return.
Please note: No money will be taken on site!
For faster service, applicants are urged to fill out the N-400 form before they arrive.
Interested in volunteering?
Students are able to receive community service hours and pro bono hours for law students. Volunteers must arrive at the site at 9:30 a.m. Interested volunteers may call  Lauraine Lynch at 954-637-3872.