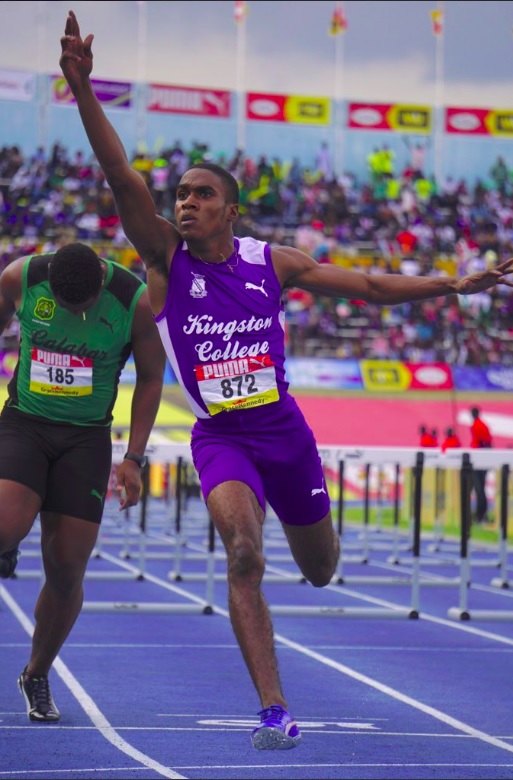 Kingston College might have won its 32nd lien on the Mortimer Geddes Trophy, the symbol of the ISSA/GraceKennedy Boys' and Girls' Athletics Championships supremacy when they annihilated the field with a record 395.5 points on Saturday night. ​
Not only did they bring a halt to main rivals Calabar High School's seven-year reign as champions, but they ended a 10-year drought for themselves, having narrowly missed out two years ago when they were overwhelming favorites to triumph. ​
Kingston College lost by nearly 90 points last year and managed to win by nearly as many points this year, leaving Calabar in its wake with 313 points. ​
But though Kingston College has got the plaudits and the trophy to boot after their excellent display over the five days of championships, Calabar certainly has got the lion's share of the media spotlight – pre and post championships. ​
Unresolved issues
There was the still unresolved issue which came to light on the eve of the meet when a Physics teacher at Calabar High School accused team captain Christopher Taylor and senior hurdler Dejour Russell of physical abuse during an ugly incident in mid-December when they track team was camping at the school. ​
The alleged altercation arose from the use of mattresses by the track team and members of the Physics department, who were also camping on the school campus. ​
The boys were suspended for a week, though allowed to participate in development meets during the time, and apparently, this did not sit well with the teacher who called for much stiffer penalties, which all came to play publicly in a most unfortunate manner, bringing the leadership of the school into disrepute. ​
The main sponsor GraceKennedy was forced to intervene, though limited in its authority to act, and there were many and varying views espoused on social media, clearly negative attention that Calabar didn't need. ​
On top of that, the school's most senior athletes including Taylor and Russell were unhealthy and did not deliver as they normally do, much to the delight of many. ​
Video of homophobic chants
If that were not enough immediately after their devastating loss, video clips emerged late Monday of boys making derogatory homophobic chants of Kingston College during their morning devotion in the school's chapel in the presence of the Acting Principal. ​
It was a most vulgar and unbecoming response from a school that has produced so many great men in the Jamaican society, it also spoke to the lack of leadership and lack of respect for leadership at the institution, which the physics teacher Mr. Sanjaye Shaw had alluded to in his complaint against the school. ​
This latest incident forced the intervention of the Ministry of Education and the Old Boys Association and a meeting of the minds of both institutions. ​
We remember well a few years ago when the rivalry got so bad and spilt over onto the streets of the corporate area with physical violence. ​
Good sense prevailed
Thankfully, with the help of the schools themselves and law enforcement, good sense prevailed, and normality was restored. We hope this latest incident does not lead to another of those episodes. ​
But is this a Calabar High School dilemma? Or is it something more symptomatic of the society on a whole? ​
When the previous Minister of Education Ruel Reid was fired by Prime Minister Andrew Holness in that manner, it begs the question – what are we really teaching our children? ​
Remember Mr. Reid was the Principal of Jamaica College and was on secondment for national duty. And after being fired, he was ready to resume leading the boys at Old Hope Road, only for the School's Board to step in a stop that charade. ​
These two incidents might have been embarrassing for Calabar High School, but truth be told, it could have been at any other school, for this, I dear say, is an embarrassment to Jamaica because children live what they learn.