KINGSTON, Jamaica – Jamaica's stunning beaches, among some of the most beautiful and well-known in the world, are currently facing a potential threat of sargassum, a type of seaweed.
The seaweed, which has the potential to have major negative impacts on tourism, fisheries and wildlife, could pose a long-term threat to the island. The Sargassum seaweed is forecasted to invade the Jamaican seashore within the next nine months.
To this end, the Jamaica-based Global Tourism and Crisis Management Centre is to collaborate with the Massachusetts Institute of Technology (MIT) to conduct research on the potential threat that faced many beaches in Jamaica, and to a wider extent, the Caribbean.
"The Centre will be partnering with MIT, one of the leading research institutions out of the US to explore the best possible strategies that Jamaica and the Caribbean can implement to be proactive and prevent sargassum from populating our shores," Tourism Minister Edmund Bartlett has said.
Sargassum is a type of brown seaweed. Numerous species are distributed throughout the temperate and tropical oceans of the world, where they inhabit shallow water and coral reefs. The visual consequence is a dark-brown/black-ish color that overtakes the seashores.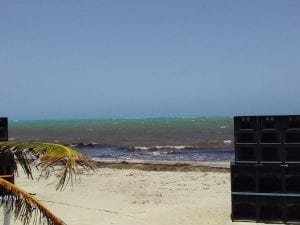 Bartlett revealed that the algae in question is quite dangerous that most, coming from a species found in Brazil. "This one is from Brazil, and it is coming as a result of nutrients and climate change activities, and therefore, this Sargassum is potent and dangerous, because it destroys marine life, it destroys the fish sanctuary, and it comes in waves and covers large swathes of beaches and ocean front. And, it has a hugely pungent odour," he said.
Bartlett said, "the issue of managing sargassum has become more urgent since large quantities of different species of the algae accumulated along the shores of many of the countries on the Caribbean Sea in 2015".
"Sargassum, as a disruptive phenomenon, can negatively impact our destination as when washed up on shore, it often causes a foul odour, releasing fumes of sulphur compounds that rust metals, and damage modern conveniences", the Minister stated.
The Global Tourism Resilience and Crisis Management Centre, which will open its door in October at the University of the West Indies (UWI) is being tasked with assessing research and monitoring of the situation, plan for, forecast, mitigate, and manage risks related to tourism resilience and crisis management.
Tourism officials say this will be achieved through five objectives, namely research and development, advocacy and communication, programme/project design and management, as well as training and capacity building.
In recent years, sargassum seaweed has affected beaches in South Florida and well as many Caribbean islands which include Jamaica, Antigua, Barbados, Guadeloupe, and Martinique.