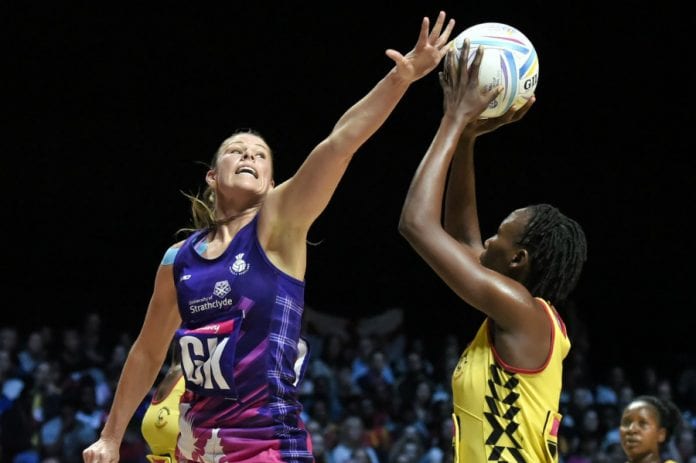 LIVERPOOL, England, CMC – Jamaica finally returned to their winning ways with a convincing victory over Scotland but Trinidad and Tobago remained winless in the second round with defeat to powerhouses England at the Netball World Cup match on Wednesday.
Playing at the M&S Bank Arena, Jamaica actually found themselves trailing 13-14 at the end of the first quarter but staged an excellent recovery to pull off a 67-36 win, halting a two-game losing streak.
There was no such good fortune for the Trinidadians as they suffered yet another defeat with a 46-72 thrashing at the hands of the hosts.
They were never in contention throughout the contest and are now have only a single win for their efforts in the tournament.
All eyes were on the Sunshine Girls, however, especially after successive defeats to South Africa last Sunday and England the following day.
And they were slow out of the blocks even though star goal-shooter Jhaniele Fowler scored 13 from 14 in the first quarter, as opposite number Emma Barrie shot nine from 10 and goal-attack Lynsey Gallagher, a perfect five-from-five.
However, the world number two side picked up the pace in the second quarter and had carved out a 32-21 half-time lead, after out-scoring the Thistles 19-7.
In the third quarter, Jamaica stamped their authority to once again dominate 18-5 and storm to a 50-26 lead, shutting Scotland out of the contest.
Fowler scored 45 from 48 attempts and was supported by Romelda Aiken with 13 from 16 attempts.
For Scotland, Barrie finished with 19 from 22 while Gallagher netted 11 from as many attempts.
T&T, meanwhile, never really got their feet in the encounter, and were behind 12-20 at the end of the opening stanza and down 16 at the half-time break, 23-39.
There was no coming back for the Trinidadians as England out-scored them 17-10 and 16-13 in the remaining quarters to clinch their spot in the semi-finals.
Kalifa McCollin shot 26 from 29 attempts to lead the Caribbean side's scoring while Samantha Wallace chipped in with 20 from 22.
For the hosts, Joanne Harten netted 36 from 40 attempts, with Helen Housby scoring 21 from 24 and Rachel Dunn, 15 from 19.
On Thursday, Barbados will be in action against Northern Ireland while T&T take on Scotland and Jamaica clash with Uganda.