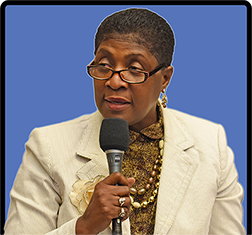 Preparing for a hurricane can sometimes be overwhelming. To help South Florida residents prepare for the potential arrival of Hurricane Irma, City of Lauderdale Lakes Mayor Hazelle Rogers has issued the following Hurricane Checklist:
Drinking Water:  At least one gallon per person per day for three to five days, preferably two weeks.  Extra water is needed for food preparation and personal hygiene.  To store drinking water, use food-grade containers.  You can use clean, airtight containers such as two-liter soda jugs, but no milk containers.  If you re-use disposable plastic bottles, do not keep them for more than a month.
Food:  At least enough for three to five days, including non-perishable packaged or canned food, canned or shelf milk, cereal, etc.; and snack foods
A three to five-day supply of special items for babies such as formula, food, wipes, diapers; special foods for the elderly; toiletries and extra toilet paper
Have a plan to stay with family or friends outside of an evacuation area (i.e. mobile home park).  The last resort should be a general (i.e. Park Lakes Elementary 3925 N. SR7) or special needs shelter
Paper goods such as plates, bowls, napkins, towels, and plastic eating utensils
Unscented household bleach and medicine dropper
Extra bedding such as blankets, pillows, sleeping bag, etc. in case you must evacuate
Clothing, including rain gear and sturdy shoes
First aid kit of Medicines/prescription drugs: A two-week supply
Hand sanitizer, Flashlight and extra batteries.  Manual can opener/bottle opener
Battery-operated or hand-crank radio, disposable batteries, car charger or solar charger for your cell phone or mobile devices.
Hardline telephone with jack (not cordless), books and games or toys o Pet food, cat litter and other pet care items
Tool kit including cord, rope, hammer, wood nails, saw, hatchet or axe, crowbar, chain saw blades, tarp, duct tape, and heavy work gloves.   Any special equipment or items you may need
Cash and important documents are paramount and should be secured.  Plastic trash bags and ties
Extra re-sealable plastic storage bags, heavy-duty aluminum foil and disposable aluminum pans
Extra charcoal or propane gas for outdoor cooking. Sterno can also be used. Never cook with any of these items inside your house. The smoke and fumes are deadly.
Fire extinguisher (ABC type)  Matches in a waterproof container
·     Mosquito repellent with DEET, and sunscreen
·     Emergency 911

·     First Call for Help 211

·     Broward County Hurricane Hotline 311 or 954-831-4000 TTY954-831-3940

·     Broward Emergency Management For Special Needs Shelter Registration 954-831-3902 TTY 954-831-3940

·     Broward County School District Hotline 754-321-0321

·     FEMA Hotline 1-800-621-3362TTY 1-800-462-7585

·     Broward County Emergency Management 954-831-3900 Pet-Friendly Hurricane Shelter Registration 954-989-3977

·     Small Business Administration (SBA) 1-800-359-2227

·     FEMA 1-800-462-9029

·     Broward County Animal Care & Regulation 954-359-1313

·     Insurance—State of Florida Department of Financial Services Hurricane Helpline 1-800-22-STORM (78676) TTY 1-850-413-3089

·     Price Gouging Hotline 1-866-966-7226