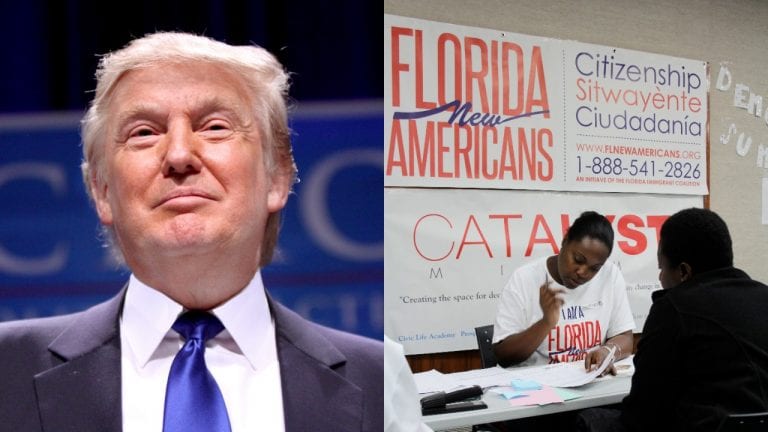 SoFlo sees spike in citizenship apps. Observers see fear of Trump driving naturalization bump
Francesa Mena of the Miami-Dade Cities for Citizenship campaign reports "increase demand" from immigrants to become naturalized citizens, with over 3,000 South Florida residents applying in the past two months.  But what's causing the spike? Observers believe the unusual surge in applications since February stems from the "Donald Trump Factor," driving a community fearful of the Republican presidential front runner's caustic rhetoric against immigrants.
"I can attest that permanent residents do not like Trump's rhetoric of hate," said Broward County Commissioner Dale Holness, who has been spearheading a citizenship drive series  in partnership with several South Florida organizations such as the New Americans, Florida Immigration Coalition, as well as the Caribbean American, Jamaican-American and Haitian-American Bar Associations. Since February, two major citizens drives at the Lauderhill Mall collected 700 applicants, with 1500 expected to apply by the end of May.
"Clearly driven by this fear and dislike, we see people eager to become citizens to partake in the electoral process this year," said Holness.
It's this anxiety that has driven her to apply, says local resident Novleen Chisholm. Eligible since 2011, Chisholm said she procrastinated, but decided to apply this year "because if Trump becomes president, I am not sure how his presidency will deal with non-American citizens."
Marsha Moore, a citizen drive volunteer in Miami, also found a similar attitude among new applicants. According to the Cities for Citizenship campaign, which includes Miami-Dade Mayor Carlos Giminez and County Commission chairman Jean Monestime, of an estimated 1.17 million eligible green card holders in Florida, about 494,000 reside in Miami-Dade County.
"And as significant percentage of these people are Haitians and English-speaking Caribbean immigrants," said Moore. "Unlike former years, when organizations involved in citizenship drives had to toil to get folks to apply for citizenship, this year the majority of these green card holders are taking the initiative to become citizens. It's no secret several applicants have expressed an urgency to vote in November, fearful of a Trump presidency which they think could introduce adverse policies against non-U.S. citizens."
This is despite the sometimes daunting application process, said Moore. The 24 page-application can "intimidate some applicants, especially those who can't read well, or comprehend English. But more people are coming out to apply once they are assured of assistance."
Further fueling the rush to become citizens is the fact that people from low-income families can qualify for waivers on the $680 application fee. The regulations allow waivers for single applicants earning under $17,650 annually, for a family of two earning $23,900, and families of three or four earning $30,135 and $36,375 annually.
"Most of the applicants are from low income families," Holness stated. "Through the waiver process, some 70 percent of these applicants have had the application fees waived."