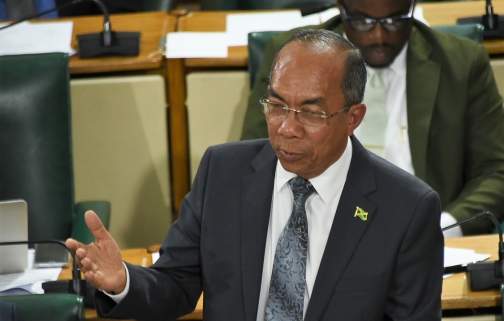 The issue of crime and violence in Jamaica was the center of the second virtual chat hosted by Jamaica's Ambassador to the United States, Audrey Marks.
In recent weeks, Jamaica has seen an uptick in violent crimes, with brutal incidents against women dominating Jamaican news. During the virtual townhall on April 8, members of the diaspora had the opportunity to voice their concerns about crime on the island directly to the Minister of National Security, Dr. Horace Change.
Dr. Chang, who is also the deputy Prime Minister, said that the government has been concerned about violence against women for quite some time and has been implementing measures within the police force to slowly address the issue.
The minister also addressed the issue of guns coming into the island. Dr. Chang said that his ministry has received much more cooperation from the United States in dealing with the illegal trading of guns.
"We don't make guns in Jamaica, much of the guns coming in are from the United States, and we are getting much more cooperation from the United States authorities in dealing with the illegal trading of firearms," Dr, Chang told his audience.
During the chat, several Jamaicans living overseas also asked Dr. Chang what exactly can the diaspora do to help the government and police force address crime on the island. But according to Dr. Chang, outside of providing monetary contributions to the ministry and developing social programs, he doesn't see how Jamaicans living overseas can help to address crime.
"Jamaica has some of the best crime-fighting expertise in the world and I cannot see any possible avenue to engage the diaspora expertise to help fight crime in Jamaica," he said, adding that some of the people leading the fight against crime in Jamaica hold multiple degrees, representing the best and brightest.
Following Chang's comments, several diaspora groups including the Global Jamaica Diaspora Council and the Jamaica Diaspora Crime and Prevention Task Force said they were disappointed by the minister's comments.
The diaspora leaders said they will be writing to Prime Minister Andrew Holness to address the issue.