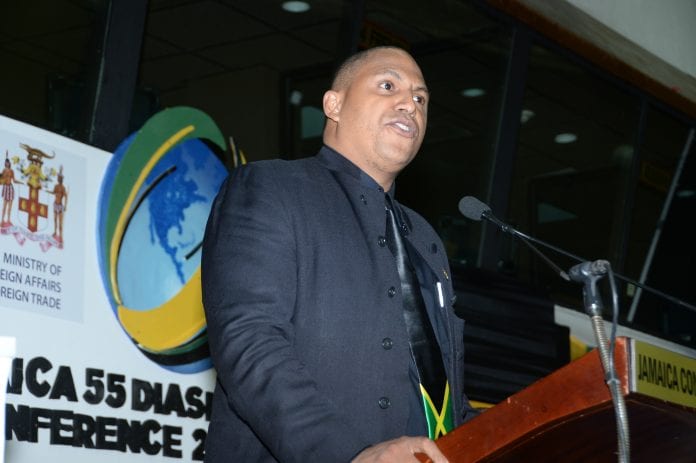 Chairman of Jamaica's Economic Growth Council's (EGC), Diaspora Task Force, Dr. David Panton says a Jamaican Diaspora Bond will be launched later this year, or earlier next year. Members of the Jamaican Diaspora in the United States of America, the United Kingdom and Canada will be able to participate.
Dr. Panton made the disclosure during an update about the progress of initiatives being undertaken by the EGC, at the Jamaica 55 Diaspora 2017 Conference on the second day of the Conference, Tuesday, July 25.
Process has started
"We have started that process; and we feel fairly confident that we will be able to have a bond which we can launch if not later this year, then certainly in early next year," he said.
Addressing the Diaspora Growth Forum session, organized by The Jamaica National Group, Dr Panton said that bonds are being used by other countries, like Israel. Bonds have proven to be a successful method of engaging the Diaspora in investing in their homeland.
$2.2 billion in remittances
Dr. Panton pointed out that the Jamaican Diaspora was investing in Jamaica through remittances of some US$2.2 billion a year.
Recently, Managing Director of JN Bank, Maureen Hayden-Carter urged the government to establish more concrete avenues for Jamaicans in the Diaspora to contribute to the development of the nation.
Jamaican Diaspora has investable wealth
In reference to 2013 data published by InfoDev for the World Bank, she noted that a quarter of Jamaicans in the Diaspora have investable wealth, or annual earnings of US$100,000 or more.
More than 70 per cent are interested in investing in start-ups and small and medium-sized enterprises and 63 per cent are also interested in Diaspora Bonds.
"We must recognize that Jamaica is not only an island of some 2.7 million people, we are much bigger and expansive than that," she had indicated.
Hayden-Cater was speaking against the background of JN Bank's launch of its JN Diaspora Certificate of Deposit.
That instrument, launched in March, is tenured from one to five years; and starts at £1,000, CA$1,000, or US$2,000. Interest at the top end of the longest terms on these investments range from 1.5 percent in pounds; 1.1 percent in Canadian dollars; to 1.8 percent in US dollars.
Two per cent of the interest income earned by individual investors through the JN Diaspora CD will be matched by JN Bank and contributed to social enterprises engaged in the JN Foundation's Social Enterprise Boost Initiative (SEBI).