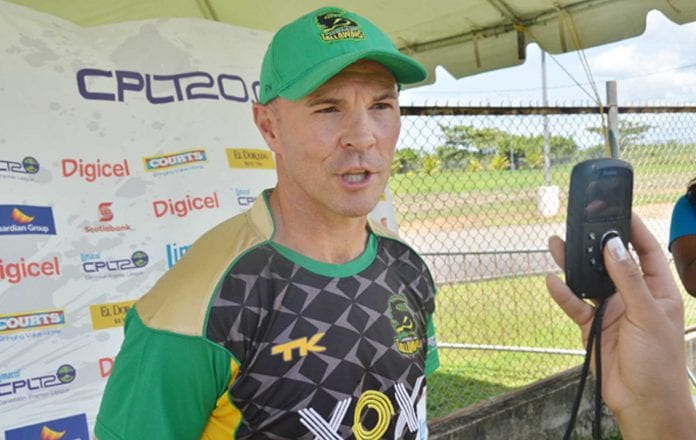 The 2016 season is shaping up to be the biggest and best yet, with an array of West Indies and international stars set to descend on the Caribbean and Florida for the biggest party in sport. With the Hero Caribbean Premier League (CPL) only three days away, we gathered the thoughts of some of the chief protagonists across all six teams and asked them to preview the forthcoming campaign and outline their vision for their respective teams.
Jamaica Tallawahs Coach – Paul Nixon:
1)      What are your team's plans coming together for the upcoming CPL season?
Our plans are coming together well for this year's CPL. The management group touched base several weeks ago discussing plans and our daily calendar through the tournament.  The schedule includes the Cricket sessions, leadership group chats, rest sessions, gym sessions from physiotherapy screening to rest and recovery sessions and managing the young bowlers' workloads. Looking after our very important sponsors as well, it is crucial to help the Tallawahs grow our brand and our players are committed to do this. We are confident and happy with the direction we are heading at this early stage.
2)      Who are your team's players to watch?
The players to watch in our team is a tough question as all have a match winning ability but to say a couple of names are Rovman Powell a very hard-hitting batsman and Jon-Russ Jaggesar who is a very skilled off-spinner who can spin it both ways and with great accuracy. Mohammad Khan and the team picked so many talented guys with strong mental belief. Our squad has age and experience combined with the vibrancy and energy of youth. 
3)      Which one other player from another franchise are you most excited about watching at CPL 2016?
We respect every one of our opposition teams but we don't fear them. There are many world class players and I'm looking forward to seeing each team's number 11 batsman walking back to the dressing room! It's about us doing well and being calm under pressure with good decision-making in the heat of battle. One or two overs of super quality can win T20 cricket, so a good focus and mind-set is huge in the CPL.
4)      What makes CPL such an exciting product?
T20 has taken the cricketing world by storm. T20 cricket is very exciting and with the Draft making it a very fair pool of players for all teams to pick from, keeps it an open competition and keeps things on an even keel.  It's about those who can execute their skills at the right time, create the team bonding and prepare well who will be the teams who will succeed. This year's overseas players are as strong as they have ever been. The coaches facilitate the best way possible so the players are ready. Passion, the colour and vibrancy of the West Indian public also create a unique carnival atmosphere throughout this amazing competition. The West Indies, and Jamaica especially, have always set amazing standards in sport over many years it's so it's wonderful that cricket is again on the map. With the U19's, the women and the men's team doing so well recently, I have no doubt that CPL has played a huge part in this renaissance. The crowds are so knowledgeable, passionate and some of the most hospitable people on earth so together this adds to very special recipe called CPL. We all can't wait to get this competition started and come 8 August our team will be aiming to holding the trophy again.
5)      What can fans expect at your home games this year?
Our fans can expect exciting, fearless and smart cricket, clear decision-making under pressure and quality entertainment.
6)      Describe your team's distinct traits / values in three words.
Passionate, Entertaining & Fearless. We want to create a legacy for Jamaican cricket.
JAMAICA TALLAWAHS: Chris Gayle (captain), Kumar Sangakkara, Shakib Al Hasan, Andre Russell, Imad Wasim, Dale Steyn, Rovman Powell, Chadwick Walton, Jon-Russ Jaggesar, Andre McCarthy, Jonathan Foo, Alex Ross, Kesrick Williams, Nkrumah Bonner, Garey Mathurin, Timroy Allen, O'shane Thomas
Coach: Paul Nixon, Assistant Coach: Mark O'Donnell
2016 CPL Media Press Release