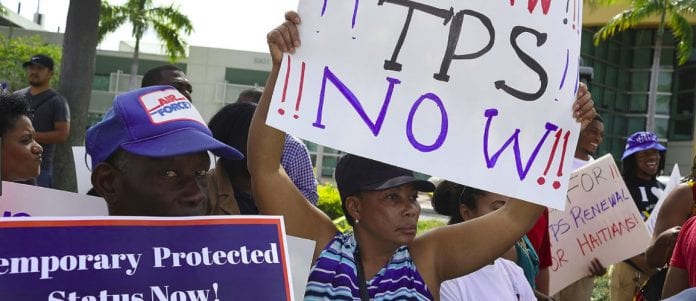 NEW YORK, CMC – Caribbean-American legislators are lending support to legal action aimed at protecting more than 50,000 Haitian immigrants and their families from being forcibly separated by deportation.
On Monday, the case, Saget et al v. Trump, began in the US Federal Court in New York. It is the first trial to challenge what petitioner's say is the Trump administration's "unlawful termination of Temporary Protected Status (TPS)" and the administration's "record of racial hostility against immigrants, particularly Haitians."
Unlawful and unconstitutional
Plaintiffs in the suit argue Trump's decision to terminate TPS status for Haitians was "unlawful and unconstitutional" and that the action is "motivated by the President's public racial animus towards Haitians and other immigrants of color."
Last year, Trump announced his intentions to the end TPS for Haitian immigrants.
50,000 Haitians in imminent danger
"In doing so, this President has put more than 50,000 Haitians seeking refuge in this country in imminent danger," Caribbean American Congresswoman Yvette D. Clarke, the daughter of Jamaican immigrants, told the Caribbean Media Corporation (CMC).
"As a member of the Congressional Black Caucus (CBC), more specifically the chair of the CBC Immigration Task Force, and as a child of Caribbean immigrants, I was then and remain infuriated by this administration's cruel, inhumane, and racist decision to end the TPS program," added Clarke, who has been in the vanguard of supporting TPS for Haitians.
Clarke, the representative for the 9th Congressional District in Brooklyn, said the "trial is critically important, as we demand a ruling that will strike down this unlawful termination for Haitian TPS….. This decision must be reversed," she added.
Dr. Mathieu Eugene supports legal action
New York City Council Member Dr. Mathieu Eugene, the first Haitian to be elected to New York City Council, joined the National Lawyers Guild, the labor union and immigration activists at the US federal courthouse in support of the legal action.
Eugene, who represents the predominantly Caribbean 40th Council District in Brooklyn, said, "The country of Haiti has been subjected to numerous natural disasters, including hurricanes, tropical storms, and the horrific earthquake of 2010. Haiti's socioeconomic infrastructure is not stable enough to handle an influx of Haitian nationals whose lives are being disrupted due to the end of Temporary Protected Status in July.
"These are hardworking people who depend on their ability to live in the United States and provide for their families" He called on the federal government " to do what is right and extend TPS for Haiti as a humanitarian gesture."
Also NYC Councillor Jumaane Williams
Another New York City Councillor Jumaane Williams, the son of Grenadian immigrants, also rallied to prevent the termination of TPS for Haitians.
"As a first generation American of Caribbean descent who represents the largest population of Haitian Americans outside of Florida, I believe we must use every tool available to fight against the disdain and contempt that Donald Trump exhibits toward immigrants," said Williams, a candidate for New York City Public Advocate, who represents the 45th Council District in Brooklyn.
"In ending TPS for so many, he is disregarding the safety of human beings in order to advance his racist and nationalist agenda," said Williams
"Trump has used despicable and vulgar terms toward Haitians in the past, which is why, despite his State Department having an advisory citing the dangers of travel to the country, he is trying to end the Temporary Protected Status that provided relief for people in dire need," Williams said.