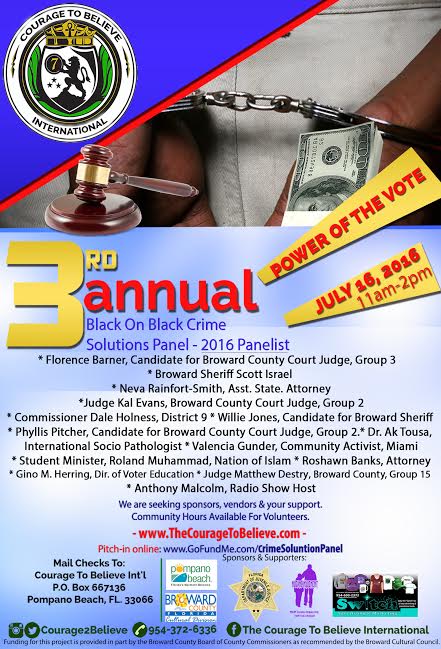 The "POWER OF THE VOTE!"
The 3rd Annual Black On Black Crime Solutions Panel, The "Power of the Vote!" is this year's theme for the annual Black on Black Crime Solutions  panel discussion. Over 3 million people in the United States cannot vote, and most of them are blacks. The purpose of the annual event this year is to bring tangible solutions to the voting problems that plague the urban community.
Courage To Believe International, a nonprofit mentoring organization, is bringing experts to the table that are on the frontlines of the battlefield in order to improve the lives of those living and working in the urban community.
"It is both an honor and privilege to have this event three years straight. I felt compelled to host this event with a political twist, since its election year," says Kevin Dorival, president of Courage To Believe International, Inc.
Every year this event is supported by in-kind services and donations from concerned citizens and educators around the country who have invested in the mission and the necessity of the event. Since 1980, there has been approximately 325,000 deaths of black men at the hands of black offenders (2010 Bureau of Justice Statistics).
Statistics also show that about 38% of the black males in America are either in prison, on probation or on parole, which means, due to their criminal record, they are unable to vote in elections.
"Unfortunately," said Dorival, "until we address the root cause of these behaviors, we will continue to see young black males end up included in these stats. We must seek to stem the tide of black males that die by a violent crime perpetrated by another black man or that become trapped in the justice system as a part of the offender population."
The celebrity panel will feature Dale Holness, Broward County Commissioner, District 9Judge Kal Evans, retention election, Group 2, Broward Sheriff, Scott Israel,, Student Minister, Roland Muhammad, and hosted by Suzette Speaks.
The free community event will be on Saturday, July 16th at the Worldwide Christian Center Church, 450 N. Powerline Rd. Pompano Beach. There will be live entertainment, refreshments, and networking opportunities. For more information on how to support or volunteer, click here: www.TheCourageToBelieve.com