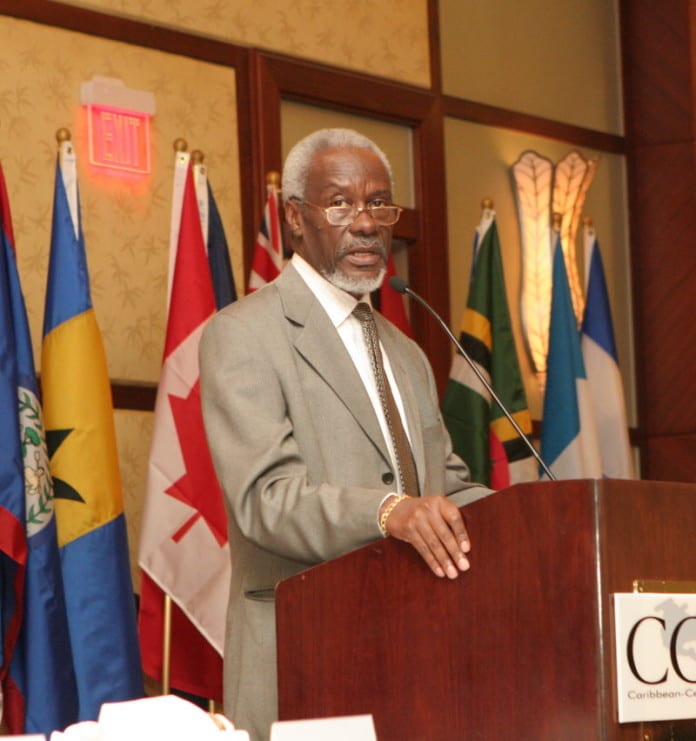 Last Saturday, Nov. 18, former Jamaican Prime Minister Percival James Patterson addressed a large audience of Jamaicans and friends at the Lasco Chin Foundation Inaugural Benefit at the Miramar Cultural Center, In  praising Jamaican businessman Lascelles Chin's for his l initiative in creating the Foundation, and thanking the Diaspora for its outreach to Jamaica, Patterson said, "It is better to create bridges than build walls."
Successful Jamaican country boy
In his address the former prime minister focused on the need for assistance to develop Jamaica through its youth,  hailing Chin as a Jamaican "country boy who has prospered and determined to give back, to empower vulnerable youth in our island home."
Indicating that 45 percent of Jamaica's population is comprised of young people 24 years-old and under, Patterson said "We need to recognise children and youth as active agents of future growth and development. Not  just as passive recipients of assistance. This is necessary, to break the vicious cycle of generational poverty while preventing the spread of social dysfunction in families and communities, societal disorder, crime and violent behaviour."
Wealth in human resources
Patterson said he has long held the view that the real wealth of Jamaica lies in its human resources.  "Our people are our most valuable asset. Our youth are our future who we cherish and equip as the main source of our growth and prosperity…..(but in) Jamaica, there is mounting concern as to how we treat our children."
He referred to Chin ad himself growing up in poverty in Jamaica; in Manchester and Hanover respectively. Although the communities had poor children who didn't go to school regularly, and walking barefoot "they were never brutalized, murdered and sexually abused as today."  
Too many youth are victims of crime
"Too many of our youth have now become victims and vulnerable to crime, drug addiction, social conditions where they live; and to exploitation by the negative propensity for bleaching.
"We have to insist on positive social values and the attitudes which will build a healthy and educated population, caring for its environment in a just, secure and equitable society."
The former PM urged Jamaicans at home and abroad to change this mindset and encourage hard work, honesty, persistence, enterprise, gratitude, peace, unity, self-respect, among the youth. "We have to promote the entrepreneurial mind," he said..
In this context Patterson again hailed Chin and for  creating the Lasco Chin Foundation.
Hails Lasco Chin Foundation initiative
"Such initiatives are so vital," Patterson said. "That the Lasco Chin Foundation has made the mission of implementing sustainable social and economic intervention for youth in Jamaica, its central objective is both timely and commendable.  It is seeking to help us attain the primary objectives of any society: producing vibrant, productive people whose education, training and socialisation prepare them to be responsible citizens; capable of good wholesome human interactions and who add value to national economic output. I commend the Foundation's Founder and Chairman for the vision and courage to embark on this critical initiative that is vital to the very survival of our Jamaican youth and indeed our nation itself."
Appeal to Jamaican Diaspora
Patterson encouraged the Diaspora to support this project of incalculable value. "By supporting this vital initiative, we are supporting the progress and development of  our people and our entire country." He said Jamaica needs the Diaspora continuing support in building the "human Stock" through skill training to transform the youth into trained professionals. "Especially among members of the Diaspora, strategic partnership/collaboration is essential for long-term success."
Praising the Diaspora for making "a sterling contribution" to the advancement of Jamaica, Paterson said "It is better to create bridges than to build walls."
Along with guest of honor, Lascells chin, other guests at the gala including Jamaican Consul General Oliver Mair, and Mayor of Miramar Wayne Messam. The master of ceremonies was Leo Gillings.