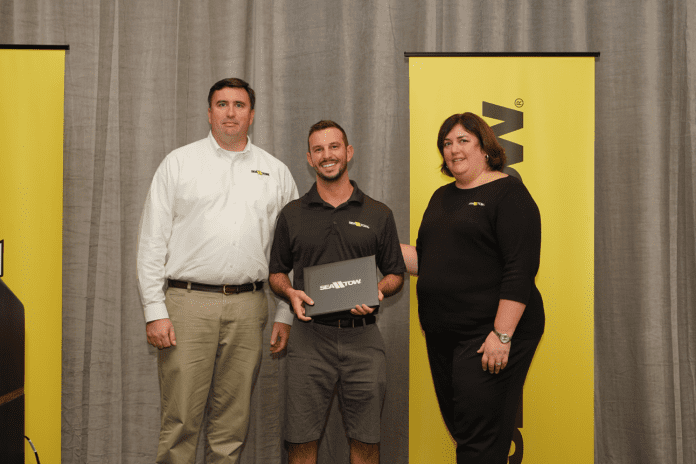 Captain Joe Leonardo Recognized for Saving Injured Jet Skier
Captain Joe Leonardo didn't know what to expect the morning of June 19, 2016 as he followed a jet skier back to an accident site near Hillsboro Inlet where two personal watercraft had collided minutes earlier. The boater flagged down Leonardo as he patrolled the inlet and asked him to respond. When he arrived, he found an injured woman with multiple lacerations fading in and out of consciousness. Captain Leonardo sprang into action, earning him gratitude from the injured boater and an award "For Going Above and Beyond."
Captain Leonardo quickly transferred the injured woman and the man who had been riding on the personal watercraft with her to his Sea Tow vessel. While providing first aid, he notified fire and rescue of the incident and requested an ambulance meet him on a nearby shore. Once onshore, the injured woman and her fellow passenger were taken to the hospital for medical attention.
Captain Luis Rodas, Saving Lives as Boats Sink
Sea Tow Ft. Lauderdale Captain Luis Rodas knows the waters of Hillsboro Inlet so well, he can tell when inexperienced boaters are going to run into trouble in the difficult seas, even before they call for help. In two incidents for which Rodas was recently recognized at the Sea Tow National Conference, the captain's knowledge and quick response saved several inexperienced boaters' lives.
On February 21, 2016 near 1 p.m., Captain Rodas was on patrol inside Hillsboro Inlet and observed a small boat containing two passengers attempting to head out of the inlet into the ocean. The inlet had waves breaking across the north and south jetties, a sign Rodas knew meant seas were going to be difficult to navigate. As the vessel neared the jetties, it was hit with three- to five-foot waves and pushed farther offshore onto a rock and coral reef.
The small boat quickly capsized and both passengers without lifejackets were washed overboard. Captain Rodas skillfully maneuvered his vessel out of the inlet and around the reef area to pluck the passengers from the ocean. He quickly determined both were not injured and he then turned attention to retrieving the boat. He was able to retrieve the capsized vessel, tow it to the nearest boat ramp, and assist with hauling the boat out of the water and onto a trailer.
The United States Coast Guard Sector Miami was notified of the incident, but due to sea conditions and location, the passengers and the boat were safely back on land before the Coast Guard could even launch its vessel to assist. Captain Rodas' skills and quick thinking saved two lives.