Broward County Mayor Dale Holness, State Senator Perry Thurston, and community activist Aude Sicard joined low wage workers at a "tent city" protest to highlight poverty wages and urge voters to pass Amendment 2 on Thursday, October 22.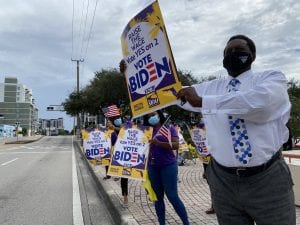 Labor and community groups, including 32BJ SEIU, the union that represents essential property service workers, Fight for 15, and New Florida Majority were also present to support the ballot initiative that will raise Florida's minimum wage to $15 an hour by 2026.
"I have diabetes and have to ration my medications because I earn so little," said Elsa Romero, an essential janitor and mother of two, who has been risking her life working throughout the COVID pandemic.
"I go to bed every night and ask God to wake me up one more time. I fear that something will happen to me and I will leave my daughters behind. It's not fair that I work so much and cannot even cover my most basic needs."
"A living wage is essential to building a successful community and a strong nation. We shouldn't have people that work full time, living in poverty," said Mayor Dale V.C. Holness.
"Labor is important to building the economy, unfortunately, some in our government believe that way we grow our economy is to give rich people more money and take a lot of money from poor people. If we don't take care of our workers, they won't be able to get to work, or get the right nutrition, or go to the doctor to stay healthy. They won't be able to afford to send their children to school so we can build a brighter future for the next generation. So I stand with you today to ensure that we do what's right for working families and our country."
The COVID pandemic and Florida's poverty wages, which make it impossible to save for a rainy day, have created a perfect storm of hunger, poverty, an impeding eviction crisis. Almost 750,000 Floridians are at risk of being evicted, according to a recent analysis of Census data conducted by Stout.
"After testing positive for this deadly virus, I was scared for my life and for my family's future. Like many essential workers, I didn't have access to paid sick leave or enough savings to fall back on," said Desiree Kimbrough, a Popeyes worker and leader in the Fight for $15.
"Without a livable wage, workers can't pay the rent or save up some money for hard times. Increasing the minimum wage will provide an extra layer of financial protection for essential workers who've been impacted by COVID-19."
Nearly 200,000 hard-working Floridians—including essential workers who risk their lives by going to work every day while keeping the economy going—earn the Florida minimum wage of just $8.56 an hour.
A full-time worker earning the Florida minimum wage makes $1,400 a month. In South Florida, where the median cost of a one-bedroom apartment is $1750 per month, families are struggling to pay for basics like food, electricity, and rent, even while working 2 or 3 jobs.
If Amendment 2 passes, nearly 2.5 million Floridians could receive a pay increase, including 36.3 percent of Black workers and 30% of working women, according to the Florida Policy institute.
Advocates argue that raising the minimum wage will inject much-needed capital into the local economy, especially communities of color that have been devastated by the COVID pandemic. It will also close the wage gap among women, immigrants, and Floridians of color, who disproportionately make up low wage earners.
32BJ SEIU, the union that represents 175,000 thousand airport workers, janitors, security officers and other essential workers—including 5,000 members in Florida—is using its muscle to turn out voters to support candidates and ballot initiatives that will benefit working families.
The union is also endorsing the Biden/Harris presidential ticket.