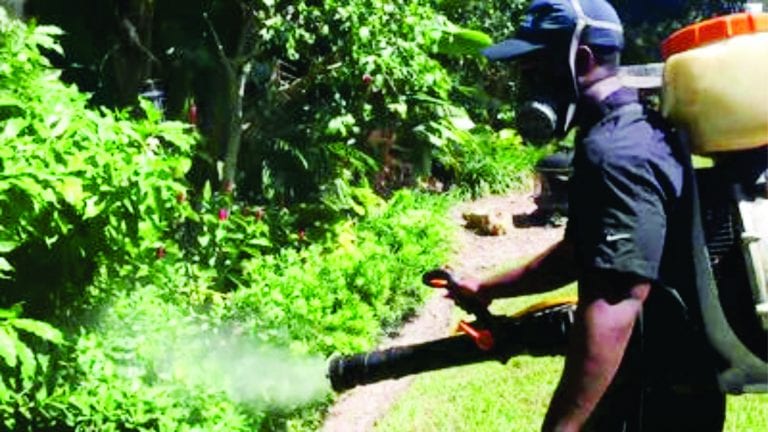 BROWARD COUNTY, FL – In the aftermath of Hurricane Matthew, the Mosquito Control Section is reminding residents and business owners to survey their property to remove any standing water to prevent mosquito breeding and protect residents from bites and diseases they may carry.
The Mosquito Control Section will perform a preventive aerial spray on Tuesday, October 11th, 2016, for mosquito larvae, in  sections of Dania Beach, Lauderhill and Fort Lauderdale, weather permitting. The helicopter will be spraying between the hours of 12:30AM and 6AM.
In Dania Beach, the areas are generally bounded by:
Area 1:
Old Griffin Road to the north
SE 3rd Place to the south
SE 5th Avenue and the Anne Kolb Nature Center to the east SW12th Avenue to the west
See map
In Lauderhill, the areas are generally bounded by:
Commercial Boulevard to the north
N. Pine Island Road and N University Drive
NW 47th Street to the south
University Drive to the east
Pine Island Road to the west
See map
In Fort Lauderdale, the areas are generally bounded by:
SE 6th Street to the north
SW28th Street to the South
Eisenhower Boulevard to the east
SW 9th Avenue and SE 3rd Avenue to the west
See map
The aerial spraying is a proactive measure. These areas were chosen based on a number of factors.
There are still no active local transmissions of the Zika virus in Broward County, and no active investigations. The one confirmed case in Broward was closed by the Department of Health, and it was determined no one else was infected.
As a precautionary measure, residents with breathing difficulties should remain indoors. Persons living in the area who have registered with the State to be alerted prior to spraying will be notified.
In addition to this aerial larvicide spraying, the Broward County Mosquito Control Section continues to work closely with the Florida Department of Health and Code Enforcement partners in Broward's 31 municipalities to eliminate mosquitoes and their habitats by doing the following:
Conducting door-to-door back pack spraying
Draining standing water where possible
Treating standing water with long-lasting larvicide
Setting up mosquito traps
Sampling adult mosquitoes to gauge effectiveness of the abovementioned treatments
Broward County Mosquito Control Section also treats areas of the County based on requests received from residents. To request service online, complete the Mosquito Spray Request Form. Requests can also be made by calling 954-765-4062.
For more information on what you can do to protect your property and yourselves, visitwww.broward.org/zapzika. You can also follow us on Twitter @BrowardCounty, using #ZapZikaBroward.
About Highway and Bridge Maintenance Division 
The Highway and Bridge Maintenance Division is responsible for the maintenance and construction of County road and highway projects, curbs and gutters, guardrails, rights-of-ways, sidewalks, storm water systems, streets, swales and trees, and mosquito control. Staff resources are available for 24-hour emergency services. Call 954-357-6040 for more information.