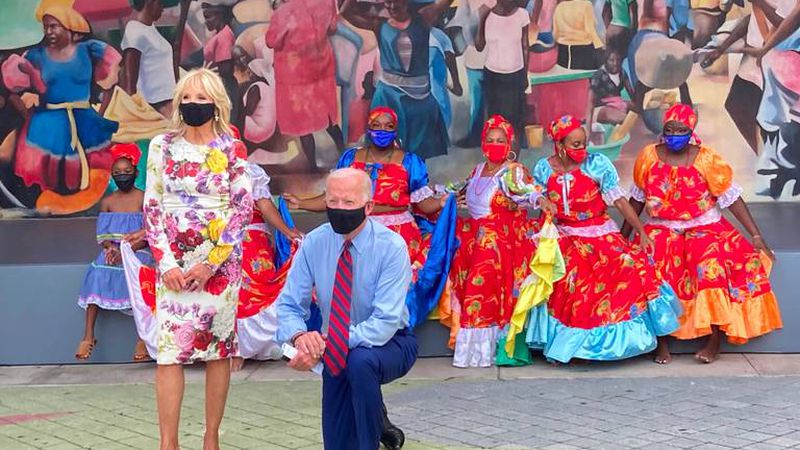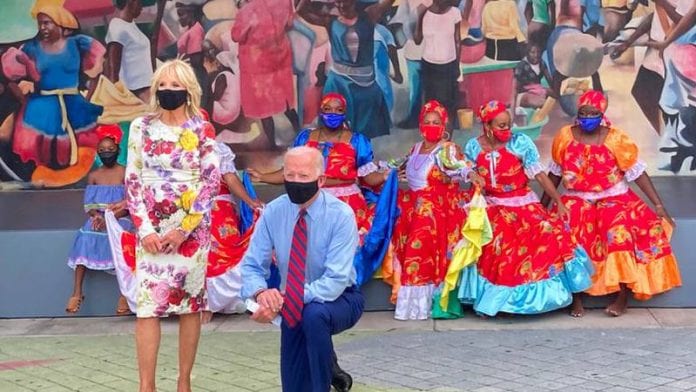 Democratic presidential candidate Joe Biden and wife Dr. Jill Biden visited Miami on Monday, stopping first at the Little Haiti Cultural Center to address this crucial voting block. 
Biden, who in recent weeks has increased his push for Caribbean-American voters in South Florida, met Haitian Americans to discuss important issues such as Temporary Protected Status (TPS) and DACA, both of which the Trump administration has targeted and tried to terminate.
Biden told the group, "The most important thing that we want to make clear is we're gonna make sure Temporary Protected Status is guaranteed to all Haitians. And this is not the time to lift it. This is not the time to end it." 
Drawing on both Haiti's triumphant and traumatic historical and current experiences, Biden assured the group in Little Haiti that quitting is not an option.
"It's all about the spirit, the spirit of this community," Biden said. "There's no quit in America. There's clearly no quit in the Haitian community, there is none. And I promise you there would be no quit on my part as your president making sure that the Haitian community has an even shot and back on its feet."
Biden highlighted the importance of the Haitian American vote, telling the group, "Folks, the Haitian community by itself—if the turnout is like it was the last time—the Haitian community itself could determine the outcome of this election." He continued, "Wouldn't it be an irony, the irony of all ironies if on election eve it turned out Haitians delivered the coup de gras in this election?"
In battleground Florida, the combined votes of Haitian Americans and other Caribbean Americans could give Biden the edge over President Donald Trump, who is ahead among Florida's Latino voters, especially Cuban-Americans. 
Biden also visited José Martí Park in Little Havana where he told Cuban Americans, "The administration's approach is not working. Cuba is no closer to democracy than it was four years ago" and assured them that Hispanic voters, particularly in Florida, "can help put our nation on a new path forward."
Biden's plans for Haitian Americans and Haiti
Prior to the visit, the Biden campaign released a fact sheet, in which Biden for President Florida senior advisor Karen Andre said, "A Biden-Harris administration will review the Trump administration's decision to terminate TPS for Haitians, reinstate the DACA program, and propose a path to citizenship for the thousands of Haitians who have long called the United States home." Andre added that under Biden, there will be "leadership that treats Haitians with the dignity and the resources they deserve to have a fair shot—both in their home country and here in the United States."
The release highlighted some of President Trump's more stringent immigration policies, particularly towards Haiti, contrasting it with Biden's actions as vice president following Haiti's 2010 catastrophic earthquake. Biden came to Miami where he worked with the Haitian American community and announced TPS for eligible Haitians displaced by the earthquake.
Biden plans to "Engage the international community and work with the Haitian government to hold elections as soon as possible so that the democratic will of the Haitian people can be heard." This is especially important amid the unrest that followed the election of Haiti's President Jovenel Moise as well as the continued calls for him to resign.  
Biden also plans to have oversight to monitor how U.S. government funds to Haiti are used, to ensure they benefit the people of Haiti.