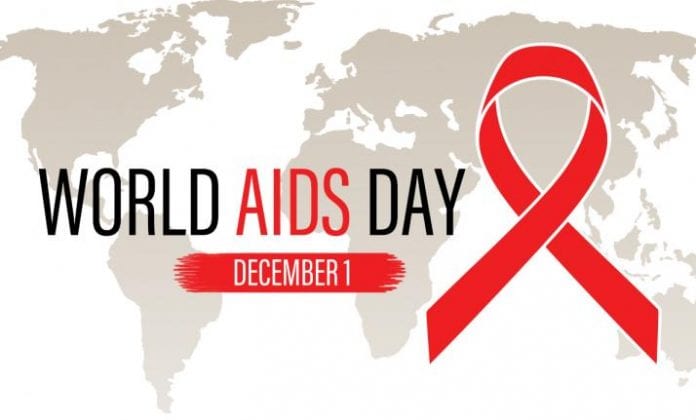 The Caribbean joined the international community in observing World AIDS Day, on December 1.
This year, World AIDS Day is being observed under the theme "Global Solidarity, Shared Responsibility".
Caribbean Community (CARICOM) Secretary-General, Irwin LaRocque said that the occasion provides an opportunity to reflect upon the global response to the HIV and AIDS epidemic by remembering the lives lost over the past four decades.
"We celebrate our achievements over the past years and pledge to work in even more inclusive and innovative ways over the coming year to end the AIDS epidemic that is still a public health threat.
"World AIDS Day this year is being observed in the shadow of the coronavirus pandemic. These are challenging times for all of us. COVID-19 is not only directly causing high morbidity and mortality, but it is also disrupting essential systems for health, as well as programmes to address HIV and other global health priorities," LaRocque said.
He said that service disruptions associated with COVID-19 are impacting global, regional and national efforts to end the epidemic.
"The COVID-19 pandemic is threatening access to HIV prevention, testing, treatment and care. A survey conducted by PANCAP (Pan Caribbean Partnership against HIV and AIDS) and the Pan American Health Organization (PAHO) highlighted numerous disruptions in these areas among National Programmes in the region."
The region's top public servant said that with strategies to meet these needs, "we may see a resurgence of HIV that can threaten our public health response to COVID-19.
"COVID-19 has demonstrated that during the pandemic, no one is safe until everyone is safe.  Leaving people behind is not an option, if we are to succeed.  Therefore, the HIV response must be maintained and actions to respond to HIV must be accelerated."
LaRocque said that eliminating stigma and discrimination, putting people at the centre, and grounding the responses in human rights and gender-responsive approaches are crucial to ending the pandemic of COVID-19 and the epidemic of HIV/AIDS.
He said that the theme of global solidarity and shared responsibility highlights the need for all to show support for people living with HIV, noting that "solidarity, collaboration, support and individual action are all needed, if we are to end the epidemic."
Meanwhile, PANCAP director, Dr Rosmond Adams, said the theme for World AIDS Day "effectively captures the phenomenal efforts of our public health champions in responding to the COVID-19 pandemic while working to maintain the gains made in the HIV response.
He said health care providers working in HIV have also been called to the battlefield to respond to COVID-19 a clear demonstration of the type of solidarity in health that is needed for people to live in a safe and healthy Caribbean.
"National AIDS Programmes and civil society across the region continue to be challenged especially in the area of HIV testing as lockdowns, and other COVID-19 protocols have prevented persons from accessing services.  However, as the region has proven in the past, rising to any challenge with collaboration and innovation is a hallmark of Caribbean people."
Adams said that public health practitioners across the region have utilised strategic collaborations to respond to COVID-19 and protect the gains made in the HIV response.
He said in Belize, Enrique Romero, the executive director of the National AIDS Commission (NAC) used his alliances with social workers and other stakeholders to conduct a needs assessment of People Living with HIV.
Adams said that the assessment revealed that many People Living with HIV were desperately in need of food items to remain adherent to their medication.
"Enrique jumped into action, and within a few days, he worked tirelessly with the Ministry of Human Development, Social Transformation and Poverty Alleviation (Belize) to expedite assistance to these individuals through the Government of Belize's "Food Assistance Programme".
The PANCAP director said that loss of employment, lack of essential living support and depleting nutritional supplies are some of the main issues that undermine adherence to HIV medication.  COVID-19 has exacerbated these circumstances.
Adams said in Jamaica, Kandasi Levermore, the executive director of the Jamaica AIDS Support for Life (JASL), responded to the needs of her clients by soliciting donations and writing proposals for small grants to provide clients with nutritional support, care packages, sanitisation items and financial support for transportation to attend clinic visits.  Such action in the face of so many adversities may have saved many lives and protected the gains made in the Region's HIV response.
He said in Barbados, Dr Nastassia Rambarran and her team from Equals Barbados arranged for delivery of multi-month medication supplies, provided care via telemedicine and donated food hampers sourced from donations and an external grant.
Adams said that these are just a few examples of Caribbean public health champions recognising their shared responsibility and taking decisive action to ensure the continuity of HIV services during COVID-19.
He said the pandemic has thrown National HIV programmes and civil society into circumstances that demanded their best.
CMC