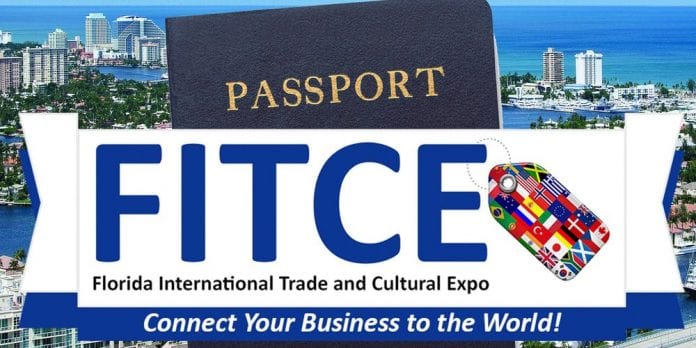 BROWARD COUNTY, FL – The County's Office of Economic and Small Business Development (OESBD) is pleased to announce the final agenda and lineup of world-class speakers for its 2019 Florida International Trade and Culture Expo (FITCE) in Fort Lauderdale, Florida.
With the theme "Connect Your Business to the World," FITCE will feature more than 60 world-renowned leaders, over 10 sessions, and hundreds of professionals from around the globe and locally.
Considered a premier conference on international trade, the fifth annual FITCE will take place at the Greater Fort Lauderdale / Broward County Convention Center, October 9-10, 2019, and it is FREE to attend!
This year, FITCE will feature the following main speakers:
His Excellency Luis Guillermo Solís Rivera, Former President of Costa Rica;
His Excellency Jamil Mahuad, Former President of Ecuador;
His Excellency Luis Alberto Lacalle, Former President of Uruguay;
His Excellency Basdeo Panday, Former Prime Minister of Trinidad and Tobago;
The Honorable Luis Pérez Gutiérrez, Governor of Antioquia, Colombia;
The Honorable Mario Baccini, Former President of the Senate & Former Minister of Public Affairs, Italy
Christian Pretelt, Head of Reseller LATAM, Facebook
Javi Correoso, Public Affairs Manager, Uber
"We look forward to bringing together diverse voices from across the globe to discuss international trade, export and import opportunities, and how to do business with their respective countries. The sessions will no doubt be rich with insights given the world-class lineup of speakers," said Sandy-Michael McDonald, Director, Broward County's Office of Economic and Small Business Development.
The conference kicks off on the morning of Wednesday, October 9th, with an opening ceremony at 8:30AM. Thursday brings a full day of sessions focusing on doing business with Europe, Africa and Asia & The Middle East and how to sell to large organizations. The day wraps up with Speed Matchmaking with County representatives and a Cultural Exchange.
The full agenda and more information about the conference, including registration are available on the FITCE website. Registration closes on Monday, October 7th.