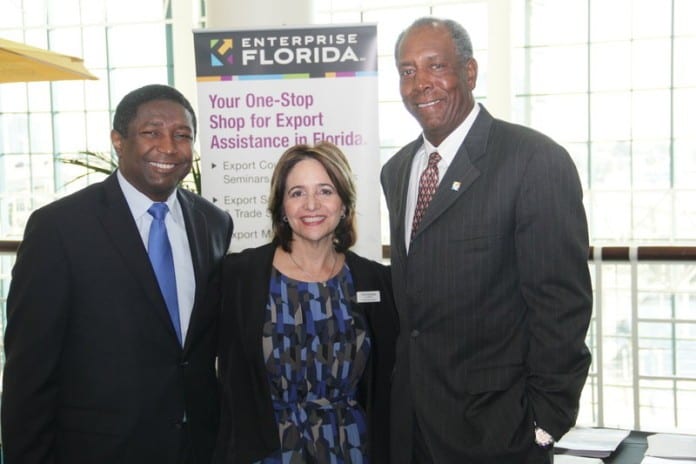 Today's economic hot-houses have nothing on Broward County, if new local commerce showcase, Florida International Trade and Cultural Expo, has anything to say about it. The event, which took over downtown Ft. Lauderdale last week at the Broward Convention Center, shed the spotlight on what the region has to offer to a host of political and business leaders from across the globe.
Orchestrated by the Broward County Board of County Commissions, the 5-day trade and cultural expo was attended by hundreds of international delegates from every continent, and including the Caribbean.
Speaking to the National Weekly, expo co-chair and Broward Commissioner Dale Holness expressed confidence in the county's position as a major international trade hub.
"Singapore, Dubai, Hong Kong has nothing on us," said Holness. "We are more strategically located, as we are the access way to Latin America and the Caribbean, and the world's number one economy – the USA."
Holness argued that South Florida's diversity, where the population speaks some 120 different languages, makes the region rich with potential ambassadors for international commerce and "strategically connected to the rest of the world."
"This is enhanced by the region having three first class airports and three first-class seaports that can accommodate any amount of trade," says Holness. "Broward County must utilize these advantages to create economic opportunity, jobs and prosperity for the residents of the county and South Florida."
Recognizing Broward County's potential, entrepreneur Leopold Lee and his partners relocated their food export/import business from Atlanta to Fort Lauderdale three months ago.
Lee confesses that, at first, he was hesitant about moving his entire business to Fort Lauderdale and "more tentative about expanding its international trade potential."
But the transition, says Lee, as been fruitful, thanks to "the facilities and incentives available in Fort Lauderdale for trade with the Caribbean, and for distribution deeper into the USA market," said Lee. "The people in the county's trade department has been of great help in providing expertise to assist us."
Providing such hands-on guidance to entrepreneurs on international trading, says Holness, has been a priority for the county, which recently launched "The Eleven Steps to Export" program. New businesses and potential international traders are guided through the entire export process. Businesses are also connected to funding and industrial experts to help them position themselves most competitively for the export market.
The U.S. Department of Commerce in the region also has a "Gold Key" program, which for a reasonable fee sets businesses up with up to six appointments in countries with U.S. commercial attachés. Holness believes the county's investment into trade will equal serious dividends for the region.
"Research shows the region's economy can grow by a trillion dollars through international trade," says Holness. "The region's cultural diversity gives us the opportunity to bring everyone to the table and grow the economy."