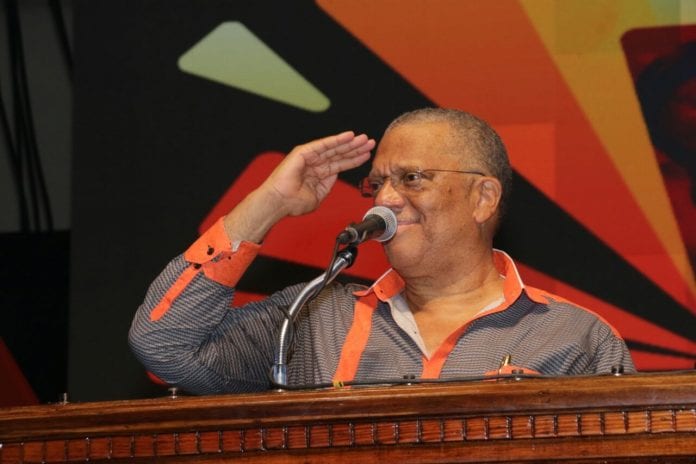 Following its devastating defeat by the Jamaica Labor Party in the September 3 general elections in Jamaica, the People's National Party (PNP) seems to be in serious disarray.
Based on preliminary results, the PNP, led by Dr. Peter Phillips has won 14 seats in the Jamaican Parliament, compared to 49 for the JLP led by Andrew Holness. In its defeat, the party lost some of its stalwart veteran parliaments, men who are seen as potential leaders of the part.
Defeat of Party Stalwarts
Most notable of these losers were Peter Bunting who surprisingly lost his Central Manchester seat. Last year, Bunting made an aggressive challenge to Phillips for the leadership of the party and narrowly failed in his bid, but was still seen by a fraction of the party as a potential successor. Other stalwarts who lose, included Dr. Fenton Ferguson, Dr. Wyckham McNeil, and Horace Dalley.
On Friday, hours after the loss, PNP supporters were coming up with all sorts of reasons, some sounding like conspiracy theories, why the party lost.
Not unexpectedly a fair amount of blame is being targeted at Phillips who accepted his role in the party's major defeat and consequently handed in his resignation letter.
PNP Problems Dates Back to 2006
It's not unusual for excuses and blame to be cast after political party losses an election, especially in a landslide. But for the PNP, its problems date back to 2006, following the retirement of former party leader and prime minister, Percival James Patterson.
Patterson presided over a very unified party, but when he retired, the party was divided as members challenged each other for the vacant leadership position.
Simpson-Miller Upsets Phillips
In the contest to succeed Patterson, Phillips was regarded as the man to be his successor, but Portia Simpson-Miller presented a very formidable challenger, and when the votes were counted, she soundly defeated Phillips. Simpson-Miller's victory was a seed that was planted to create the current demise of the PNP.
Simpson-Miller, "Sista P" as she was popularly called by her supporters, a woman of humble upbringing, regarded by a large swath of Jamaicans as from the wrong class, brought out hidden bigotry in the PNP, and some members refused to recognize or accept her leadership. Some people resigned their Cabinet positions and left the party. Others remained as a thorn in the side of Simpson-Miller, refusing to give her the needed support. This raw division was evident in the party when, in the ensuing 2007 general elections, she lacked the type of support needed to lead the party to victory, and the PNP narrowly lost to the JLP led by Bruce Golding.
Sista P's detractors assumed the election defeat would weaken her resolve, but she dug in, and despite what turned out to be an unwise challenge by Phillips to wrest the leadership from her, she prevailed in securely holding on to the leadership.
Faux Unity
Although it appeared there was some element of unity behind Simpson-Miller as she secured her leadership and led the party in opposition, this was not real, and the divisions prevailed.
When she led the party in a stunning victory over the JLP,led by new party leader Andrew Holness in 2011, Simpson-Miller received the mandate she so much wanted. However, this still did not cement any semblance of unity in the party, and a strong pro-Phillips faction prevailed.
Assigned as the Minister of Finance under the 2012-2016 Simpson-Miller administration, Phillips gave an impressive performance and was instrumental in correcting Jamaica's economic problems. He was also named as Deputy Prime Minister by Simpson-Miller, an apparent attempt at party unity.
Responding to calls within the party to call general elections as 2015 came to a close, Simpson-Miller did so for the end of February, with Phillips assigned as campaign director. The party, extremely confident of victory, ran a less than stellar campaign, resulting in a surprising JLP victory by just one seat.
Simpson-Miller's retirement
With the loss the end of Simpson's Miller leader was evident, and sensing the mood of the party she resigned as party leader, to be succeeded by Phillips, seemingly unanimously.
But it wasn't too long before the divisions became evident again. While Phillips served with much credit in ministerial portfolios of Health, National Security and Finance, he just never seemed to elevate himself to be an inspirational leader of the PNP, or a strong foil to Prime Minister Andrew Holness as Opposition Leader.
Presiding over successive by-election defeats, a faction of the party lead by Peter Bunting made their dissatisfaction with Phillips leadership known and made a strong challenge to replace him in 2019.  But this time, Phillips prevailed, narrowly defeating the Bunting challenge.
But the party never reunited after 2019, and went into the September 3 election somewhat fractured. Under an unpopular leader, the result is a devastating defeat.
Urgency Needed
With Phillips' retirement signed and sealed, the party needs to move with urgency to identify and eventually elect a successor. But still, the division persists, as there is no clear candidate, or even a few candidates who are likely to attract a semblance of consensus from party delegates.
Although they are out of parliament, Peter Bunting and Wyckham McNeil are still considered potential leaders. Either if elected could be shunted into a safe constituency to secure a parliamentary seat in a by-election and serve as Opposition Leader.
Other potential candidates for the leadership position include Lisa Hanna, who won her seat in the recent elections by only 14 votes. The certainty of her parliamentary position will be subject to a recount.
Also in consideration for the leadership are Mark Golding, Phillip Paulwell, and party secretary Julian Robinson.
For its survival, and to pose a relevant and strong opposition to the JLP, the PNP needs to rally without delay around a potential leader. The divide over leadership since 2006 has damaged the party leading to its demise and to it being seemingly irrelevant to voters, especially younger voters.
"Old Man's Party"
The PNP today has the image of an "old man's party". To the credit of Andrew Holness, he selected a cadre of young, energetic, mostly female candidates, who appealed to the imagination of more voters, particularly young voters.
It is possible that the spanking that the PNP received at the polls on September 3 is a blessing in disguise. The party may have been purged of some redundant candidates, leaving the new incoming leader to appoint young, bright, dedicated, politically savvy men and women to challenge the JLP in all 63 constituencies.
But first, the party must move with haste to satisfy its leadership problem. Whoever is elected will have a hard task of leading and reuniting the party, while functioning as a formidable Leader of the Opposition.
The PNP can reunite, it will reunite, it did so after the debacle it experienced in the 1980 elections. But, it is going to take a strong leader and strong leadership.