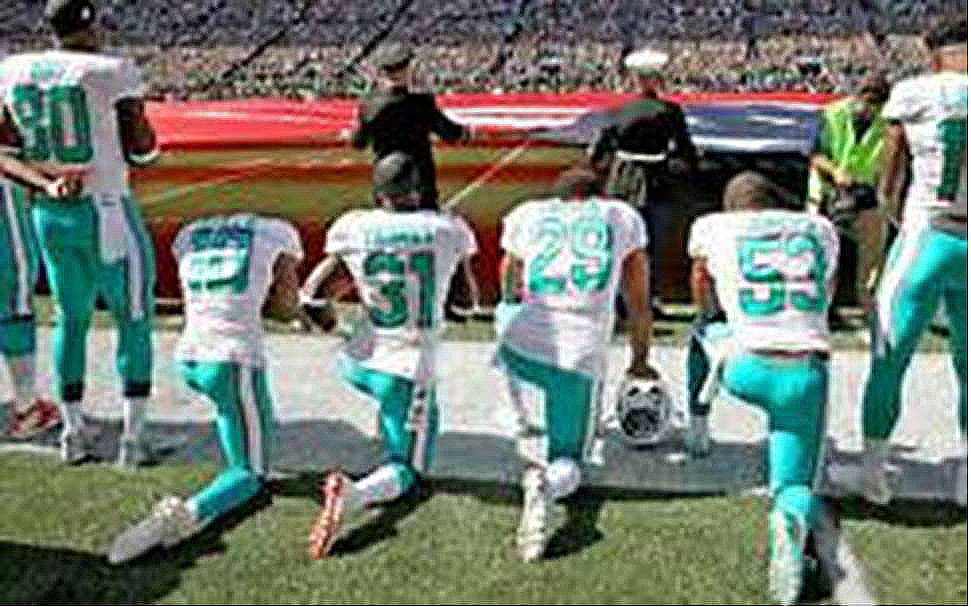 Players, coaches and owners in the National Football League display unity in protesting racial divisions and remarks made by President Donald Trump by kneeling and linking arms.
Last year when former San Francisco 49ers quarterback Colin Kaepernick knelt during the playing/singing of the American national anthem he was protesting police brutality against African Americans.
The young, African American quarterback was resolute in his stance, saying he would refuse to stand for the anthem, which represents all Americans, until there was improvement in the way African Americans were treated by law enforcement.
Kaepernick continued to kneel
Throughout the 2016 National Football League (NFL) season Kaepernick continued kneeling, instead, of standing when the national anthem was played. His stance was shared by several players on other NFL teams.
Not surprisingly, Kaepernick was criticized in various quarters, especially in those quarters which do not, or refuse to, understand the weight of police brutality and overt racism on the African American community.  Unfortunately, Kaepernick has been badly affected by his stance. He has been overlooked by every NFL team in the current NFL season, resorted to being a spectator.
With the quarterback out of the news, some people are surprised  the issue of him not standing for the national anthem resurfaced with such a flourish over the past weekend.
However, this was the result of a speech by the incumbent president at a political rally in Alabama last Friday.
President lambast NFL players
In his speech, the president lambasted NFL players who refuse to stand for the national anthem, saying they should be fired.
On Sunday Sept 24, the players on almost every NFL team began kneeling when the anthem played at games around the country. Most players were protesting the president's remarks, and also racism and bigotry in America.
Those who weren't kneeling, joined in some instances by their team owners, linked arms in solidarity against the continued racial divisiveness in America.
Stephen Ross joins Miami Dolphins in protest
Stephen Ross, owner of the Miami Dolphins who played the New York Jets in New York on Sunday, linked arms with his players as the anthem was played. In a statement Ross said the country should be striving to end racial divisiveness, and for national unity. In practice prior to the game Dolphins players wore black T-shirts with the hatch-tag #IMWITHKAP printed across the front.
It's very unfortunate that American sports men and women, black or white, should be berated by national leaders because they use their sports platform to seek social justice.
Sports is historical platform for protests
Historically, sports have been used by black athletes to protest racism against the black community.
Jesse Owens, the late great African-American Olympian who embarrassed Adolph Hitler by winning 4 gold medals at the 1936 Berlin Olympics protested racism. In 1968, at the Mexico Olympics two African-American athletes, John Carlos and Tommie Smith protested racism and segregation with a Black Power salute on the medal podium. And, during the Vietnam War in the late 1960s, early 1970s, late boxing icon Mohammed Ali refused to be drafted to participate in the war. He believed the war had nothing to do with black America, and was a war in which black youth was being killed wantonly.
These athletes who protested in their own way were no less patriots than the Americans that fought and gave their lives for this country. Carlos and Smith were not disrespecting the American flag nor anthem when they gave the black power salute. The athletes who kneel while the national anthem is playing are not disrespecting the anthem or the military.
Peaceful protest against years of racial injustice
These athletes are participating on a public stage in peaceful protests against years of racial injustice, including police brutality, which continues. The athletes are protesting a racially divisive country that continues to place blacks in a marginalized box. These protests are no different than the Reverend Martin Luther King, Jr., sit-down protests and his marches through the cities of America.
Although the establishment will vehemently criticize the NFL players, black and white, and the white owners who linked arms with their players to show solidarity with the cause of black America, and against racist division, the NFL should be commended.
It is tiresome, destructive, and painful that in 2017, almost every week there's bitter controversy regarding either covert or overt racism. This is bad for America. No one, no organization, should be shy or fearful to protest against those, regardless of their position, who seek to perpetuate racial divisiveness in this country.
See what people in the local South Florida Caribbean American community are saying about NFL players kneeling in protest: https://www.caribbeannationalweekly.com/caribbean-breaking-news-featured/think-nfl-players-taking-knee/