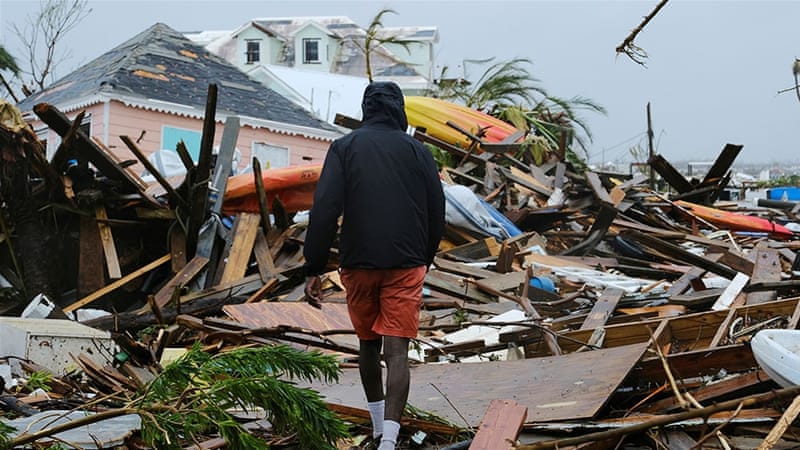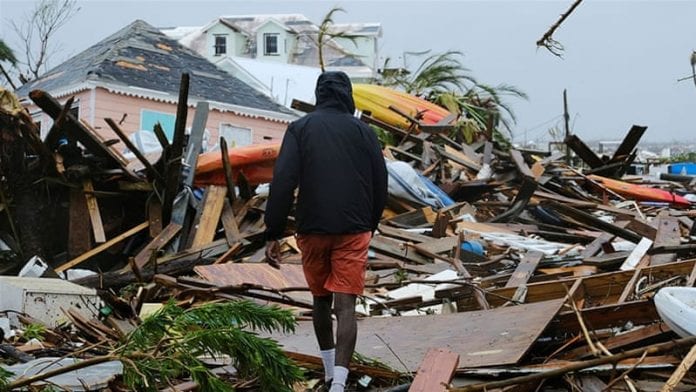 SOUTH FLORIDA – So often in life, it is seen where one man's joy is simultaneously another man's grief. This paradoxical situation was starkly borne out over the past few days when Hurricane Dorian forecast for days to possibly directly impact a point in South Florida veered north from the region providing occasional wind gusts and rain showers, but directly impacted the beautiful islands of the Bahamas with winds up to a mind-boggling 185 miles per hour.
Again, within a span of two years the Caribbean American community is in agony over the devastating loss of life and property on a Caribbean nation. In 2017 Dominica, Barbuda, and Puerto Rico were left in ruins after Hurricanes Irma and Maria passed through those islands within the space of two weeks in September 2017.
Originating outside the Lesser Antilles over a week ago, Dorian, first as a tropical depression and then a Category 1 hurricane, spared several islands including Barbados, Hispaniola and Puerto Rico it was forecast to impact, resulting in a gigantic sigh of relief. And although it was then forecast to impact the Bahamas and Florida, a storm of over 185 mph was not envisaged.
But as the storm turned north, taking South, and most of, Florida out of its forecast cone, it virtually stalled over the Bahamas. Now, this vibrant Caribbean nation and primary tourist destination will never be the same, at least for several years to come.
These usually annual tropical storms that impact the Caribbean, Florida and other regions of the southern and east coasts of the United States consistently reveal how petty humans are in face of the might of nature.
Those who have experienced the might of a strong hurricane often relate the feeling of stark helplessness and vulnerability as the storm batters their homes and surroundings.
DIASTER BREED POSITIVE COMMUNITY SPIRIT
If one can identify a positive in disasters like hurricanes it is that the threat, passage, and aftermath of these storms usually reveal a community spirit devoid of racial and ethnic bigotry.  The community spirit usually displayed over the course of these pending or actual disasters is indicative that bigotry and racism are unfortunate acquired characteristics that people can and do shed when peculiar crisis arise.
But then there's the question. If people of various races and ethnicities can live collaboratively during the impact of a community crisis, why can this not be consistent? It shouldn't take natural disasters to bring out the decency within people. Maybe, these disasters are divinely sent to humble man to have positive community relationship with man's neighbors. It's a pity the lessons are not long-lasting.
Expand this community spirit to the Bahamas
This positive community spirit is needed to be harnessed emphatically to help the people of the Bahamas. Community spirit isn't or shouldn't be regarded as a parochial spirit, but can and should extend to an entire global region. Such a global regional community includes Florida and its Caribbean neighbors, of which the Bahamas, some 90 miles from Miami, is a prominent member.
Bahamians were among the earliest migrants to South Florida, settling and developing a vibrant community in the Coconut Grove neighborhood and other areas of South Florida. There is no doubt that Bahamians residing in South Florida are in pain at the devastation wreaked on their proud, colorful nation by Hurricane Dorian, and concern for their compatriots.
The devastation in the Bahamas has been compared to the heart-wrenching devastation seen in New Orleans in 2005 after the catastrophic impact of Hurricane Karina.
Give more than thoughts and prayers
While a host of people rightfully have the people of the Bahamas in their thoughts and prayers, these Bahamians also need long-term support from the Florida community. There is a tendency when disasters strike somewhere, as it did in Haiti in 2011, for people to react spontaneously in cash and kind, but these brief, spontaneous support, while they do help, is far from sufficient to meet the long term needs of the devastated people.
Florida, especially South Florida has much to be thankful for as it was spared the 185mph wrath of Dorian, especially when residents realize the devastating impact experienced in the Bahamas as the storm sat over those islands for over two days. If the storms had traveled another hundred, or so, miles west South Florida could easily have suffered a similar devastating experience as the Bahamas.
It would be a pity and shameful if the gratitude of being spared the full impact of Dorian doesn't mobilize a special community spirit amongst South Floridians, particularly the South Florida Caribbean community, to coordinate a sustained effort to assist the neighbors in the Bahamas. PLEASE HELP!