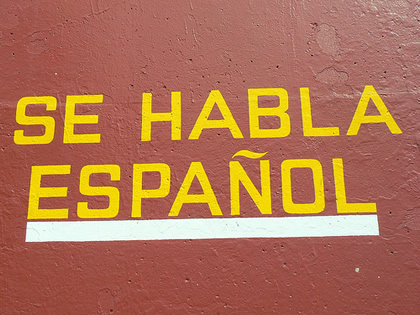 MIAMI, Florida – Last week in West Kendall, a young Caribbean-American woman vented her frustration inside a popular sandwich chain restaurant as the servers didn't speak English and could not understand what she was trying to order.
Coming to the U.S. where English is the predominant language, few people from the English-speaking Caribbean anticipated one of the challenges they would encounter is communicating in languages other than English. For those who have settled in South Florida, especially in Miami-Dade County, they often find one of the requirements to get a job is being bilingual, usually English and Spanish.
In Miami-Dade characterized by large Hispanic communities in  Hialeah, Sweetwater, parts of Coral Gables, South Miami, and  West Kendall, Spanish seems to be the primary language. Several businesses have signage in Spanish and English-speaking Caribbean migrants contend daily with customers and staff in supermarkets, small stores, large department stores, and professional offices who speak little or poor English.
Naturally, the inability to communicate freely in English, not to mention barred from securing jobs for which one is otherwise qualified, because of the bilingual criterion, is frustrating. As a result some Caribbean-Americans often question why English isn't the mandated language in the region, especially in the workplace.
Historically, the English/Spanish issue has been controversial in South Florida. In 1980 as the Hispanic population in then Dade County increased, a group called Citizens of Dade United proposed a ballot initiative to make English the official language of the county. With the late Cuban president Fidel Castro opening the gates of Cuba for thousands of convicts and other undesirables to leave his country in the early 1980s in the "Mariel Boatlift" for Miami, county voters easily passed the initiative.
From 1981 to 1993 English was the official language in Dade County. The Dade County English Only Ordinance forbade the county government to fund programs not conducted in English or conducting business in any other language. At the time, only a few jobs required the bilingual criterion.
However, not surprisingly as the county's Hispanic community began to rapidly increase, opposition to the ordinance grew. In 1993, following the redistricting of the Dade County commission into 13 voting districts, the expanded block of Hispanic voters gave the commission a Hispanic majority. Shortly after, the commission voted down the English-only ordinance, and many Caribbean and other immigrants who did not communicate in Spanish were increasingly frustrated in jobs that required applicants to be fluent in English and Spanish.
This resulted in more Caribbean-Americans following those who already relocated from Dade County after Hurricane Andrew devastated the county in 1992, to Broward and Palm Beach counties where Spanish was far less prevalent.
This intra-migration has not, however, ended the region's language controversy. South Florida's Hispanic community continues to grow exponentially with increasing numbers of immigrants from countries like Argentina, Venezuela, Colombia, and Puerto Rico coming annually to South Florida. These immigrants have located not only in Miami-Dade County, but in Broward and Palm Beach counties as well. Currently, some employers in these counties are using the bilingual criteria for employment.
Despite the frustration of people who speak only English, it's unlikely Florida voters will ever again approve an English-only policy for any county or the state. Over 40 percent of South Florida's population speak languages other than English, and mostly Spanish. This pattern expands nationally and large percentages of the population of states like New York, California, Texas, Arizona, Nevada speaks Spanish and other languages.
During his tenure as president, among reports that Florida, Arizona, and Texas planned to submit a national English-only bill, President Obama signed an executive order making those initiatives unconstitutional, calling them "anti-American."
Despite President Trump being critical of some of his fellow Republican candidates speaking in Spanish during the 2016 presidential campaign, he hasn't insisted on an English-only national policy.
On the other hand, although a national English-only policy is unlikely to be implemented, it's indicative lawmakers want to ensure immigrants learn and speak English. Several proposed immigration bills since 2013 include the requirement that undocumented immigrants seeking legal immigration status must learn English.
In the future, unless some Draconian immigration policy sweeps the nation officially requiring all immigrants to speak English only, it's quite possible the U.S., or states like Florida, could officially be bilingual, English-Spanish, similar to Canada's official English-French bilingual situation.
As this bilingual pattern maintains, it becomes more necessary for English-speaking Caribbean-Americans, especially young people, to learn Spanish in schools, colleges or elsewhere, to effectively compete on the job market, and communicate effectively with other ethnicities.
Years of immigration have made America a starkly diverse nation of races and languages. It's unlikely the nation will ever have an "English-only" label. It's therefore practical that citizens strive to be multilingual, especially learning the second dominant language, Spanish.