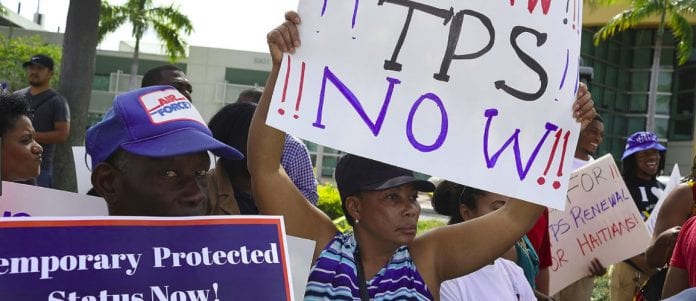 Two brave Haitian nationals are among a group of eight other courageous immigrants who have slapped a lawsuit on Donald Trump and the U.S. Department of Homeland Security, (DHS).
Nineteen-year-old Chris Jean Baptiste and 25-year-old Anne Christine Nicolas, both born in Haiti, but currently living under Temporary Protected Status, (TPS), in Boston, Massachusetts, are suing to block the termination of TPS for Haitians and El Salvadorans by the Trump administration.
Jean Baptiste has been a TPS beneficiary since 2010. He is a graduate of Milton High School in Milton, Massachusetts and is currently enrolled in Bunker Hill Community College. He also works as the manager of a franchise of one of the largest American restaurant chains.
Nicolas also has been a TPS beneficiary since 2010. She earned a Bachelor of Fine Arts from Lesley University in Cambridge, Massachusetts and currently works at the intersection of education and arts. Before it was announced that TPS designation for Haiti would be rescinded, she was preparing for the future and exploring master's degree programs in arts and education.
Jean Baptiste and Nicolas are the lone Haitian immigrants in the lawsuit, filed by the Lawyers' Committee for Civil Rights and Economic Justice, in partnership with Centro Presente. The other six immigrants are from El Salvador.  
Decision based on racism
The suit argues that the decision to end TPS by Trump, Secretary of the Department of Homeland Security Kirstjen Nielsen and Deputy Secretary of the Department of Homeland Security Elain Costanzo Duke, was based on racism and discrimination that violates the constitutional rights of these immigrants and all immigrants from Haiti and El Salvador.
Oren Nimni, one of the attorneys at the Lawyers' Committee, said there are many examples of racism and discrimination infecting Trump administration decisions including "Muslim bans"
and plans to end DACA, the Delayed Action for Childhood Arrivals policy that has allowed "Dreamers" to remain in the U.S. "Everyone is keenly aware of the racist bigotry that has characterized the Trump administration's immigration policies," Nimni said during a press call. "We've all heard the reports of President Trump referring to Haiti and other TPS nations as 'shithole' countries. We've also heard the reports of President Trump expressing preferences for immigrants from Norway, a predominately white country. We've also heard the countless derogatory and demeaning statements that President Trump had made about Latino immigrants, calling them rapists and criminals."
Earned TPS designation under Obama
In prior years, Haiti's TPS designation had been renewed based on the slow pace of the country's recovery from its cataclysmic 2010 earthquake, which earned it the TPS designation from the Obama administration.
TPS is set to end for Haiti in July 2019 and for El Salvador in Sept. 2019. The Department of Homeland Security is also ending TPS for Nicaraguans in January 2019, while it has put a decision on hold for Hondurans.   
Centro Presente is a community organization that advocates for TPS beneficiaries in Massachusetts. Lawyers' Committee for Civil Rights and Economic Justice previously challenged the constitutionality of Trump's executive order targeting sanctuary cities.
Second lawsuit
This is the second TPS-related lawsuit filed in recent weeks. Last month, the NAACP Legal Defense Fund sought a federal judge in the U.S. District Court of Maryland to reverse the decision to end the humanitarian protections for nearly 60,000 Haitian immigrants. That suit argues that Acting Homeland Secretary Elaine Duke's November decision to end TPS for Haiti as of July 2019 is "irrational and discriminatory" and influenced by President Trump's "public hostility toward immigrants of color."