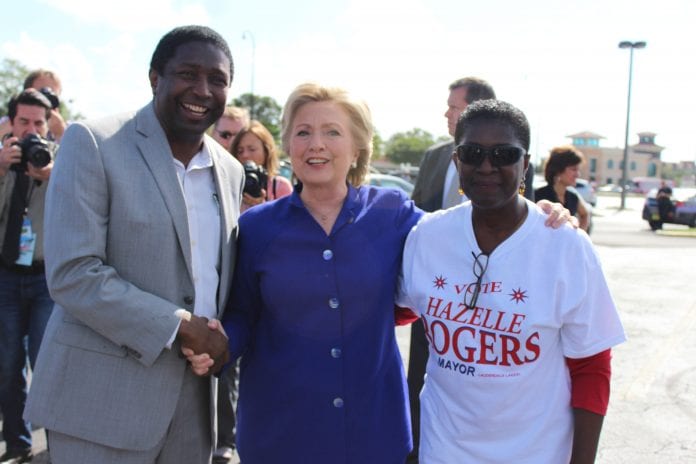 Jamaicans wary about US election
By Howard Campbell
Less than one week before the United States presidential election, Metry Seaga goes about his business as president of the Jamaica Manufacturers Association (JMA). He is not consumed by the wall-to-wall coverage for Democrat Hillary Clinton or Republican Donald Trump, but Seaga is taking notes.
"Anybody that wins, hopefully will maintain the level of relationship (with Jamaica). However, I would be concerned with anyone from the US who has a myopic view of the world," he said.
That 'anyone' is Trump who has vowed to reduce exports from rising economies such as China and cut immigration from neighboring Mexico.
That has earned the real estate magnate a massive following in Midwest states like Indiana and Ohio, and West Virginia in the northeast, where blue collar workers are taking a beating. That message is the driving force of his 'Make America Great Again' platform.
Seaga is a major shareholder in JFP, a furniture company that exports to the US, mainly through South Florida. Many of his members in the JMA also do business in that market, exporting liquors, jams, jellies and sauces.
Any significant change if Trump wins, Seaga believes, will be significant because "when America sneeze, Jamaica catch cold."
That diagnosis is accurate. After the September 11, 2001 terrorist attacks, the thriving remittance network from Jamaica to the US fell dramatically.
The 2008 Depression resulted in closure of bauxite companies like Alcan and the loss of hundreds of jobs.
Another sector that is heavily dependent on the US is entertainment. Tommy Cowan, a music business veteran who has worked with Bob Marley and Dennis Brown, is also watching the election closely.
"If you look at our industry, our people depend a lot on work permits. But I haven't heard a lot about that in the whole immigration issue," he said.
Most persons (artistes, booking agents, managers, publicists) involved in reggae travel to the US several times for the year. Several of them complained about harassment following the 9/11 attacks in New York.
That incident also curtailed tours, a main source of income for most artistes.
Cowan, 71, has followed the last three US elections keenly. A big fan of President Barack Obama, he believes next Tuesday's outcome is not difficult to analyze.
"It's definitely the most interesting in my lifetime. You have one person is likely to improve on things that are already in place and the other is planning to come with a totally different view.