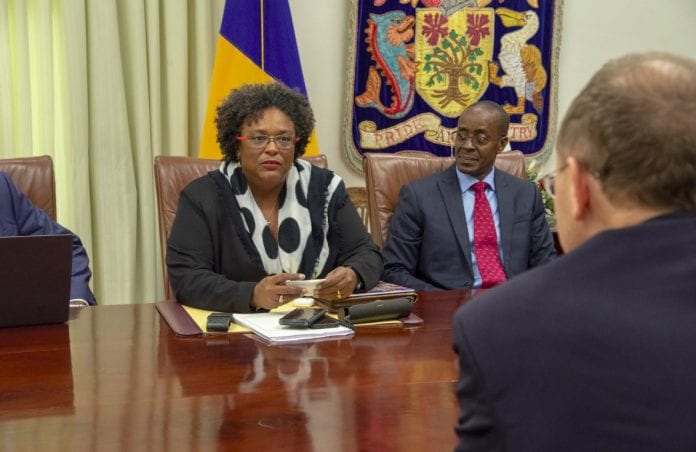 The Prime Minister of Barbados, Mia Mottley met on Tuesday with a delegation from the International Monetary Fund (IMF) as her new administration seeks balance of support funding from the Washington-based financial institution.
"Today I met with a team from the International Monetary Fund (IMF) headed by Bert van Selm,' Mottley posted on her Facebook page, promising to provide "more information" later.
Parliament opens
The meeting followed the start of the new Parliament which saw  Governor General Dame Sandra Mason, delivering the traditional Throne .
"The task ahead is not for the 30 elected or the 21 appointed, but for the 300,000 who live in Barbados and those of our citizens living in the diaspora," the Governor General said.
Government suspending payments
Last weekend, Mottley announced the new government would suspend payments due to domestic and external creditors and  domestic creditors would also be asked to roll over principal maturity until a restructuring agreement is reached.
The state of the Barbados economy was a major issue in the campaign for the May 24 general election in which Mottley led her Barbados Labor Party (BLP) to a clean sweep of all 30 seats in the Parliament, defeating the incumbent Democratic Labor Party (DLP) that had been in power for the past 10 years.
Last month, the Central Bank of Barbados (CBB) said the local economy had contracted by an estimated 0.7 per cent during the first quarter of this year and warned that the outlook "remains challenging."
Mottley told Barbadians. "There is no avoidance in delay when treating with the economic and financial position in which we find ourselves.
"Public debt as a proportion of our national income is being regarded as high as 171 per cent of GDP." She said every year Barbados spends BDS$800 million in interest on debt and this year, the island will spend a further one billion dollars on outstanding debt.
"Our interest bill alone is equal to the Central government's entire wages and salaries bill. In fact our interest bill is about BDS$15 million or so higher."