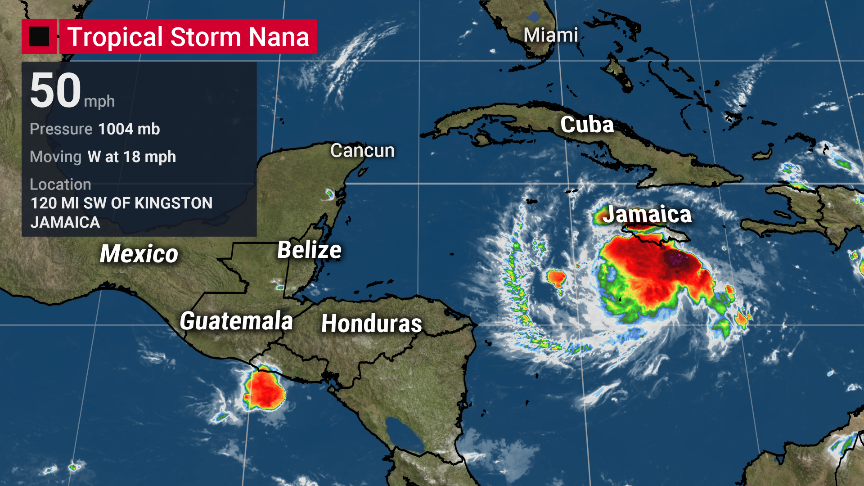 Tropical storm Nana was getting better organised southwest of Jamaica on Tuesday, where it is located about 110 miles south of Negril, the beach resort town located across parts of two Jamaican parishes, Westmoreland and Hanover.
The Miami-based National Hurricane Center (NHC) in its latest bulletin at 2.00 pm (local time) said that the storm was about 650 miles east of Belize City in Belize with maximum sustained winds of 50 miles per hour (mph).
The NHC warned that swells generated by this system are affecting portions of the southern coast of Jamaica, and will continue into Wednesday morning.
"These swells are likely to cause life-threatening surf and rip current conditions," the NHC added.
A tropical storm watch has been issued for Belize and the NHC said that a hurricane watch could be declared later for the Caribbean Community (CARICOM) country.
Nana is moving toward the west near 18 mph and the NHC said on this general motion is expected to continue through Thursday.
"On the forecast track, Nana will be moving near but north of the coast of Honduras on Wednesday and likely be approaching the coast of Belize on Thursday.
"Maximum sustained winds are near 50 mph with higher gusts. Additional strengthening is forecast during the next 48 hours, and Nana could become a hurricane just prior to landfall on Thursday."
The NHC warned that a dangerous storm surge will raise water levels by as much as three to five feet above normal tide levels along the immediate coast near and to the north of where the center makes landfall.
Nana is expected to produce rainfall accumulations of two to four inches across northern Honduras, Belize, and the southeast portion of the Mexican state of Quintana Roo.
CMC