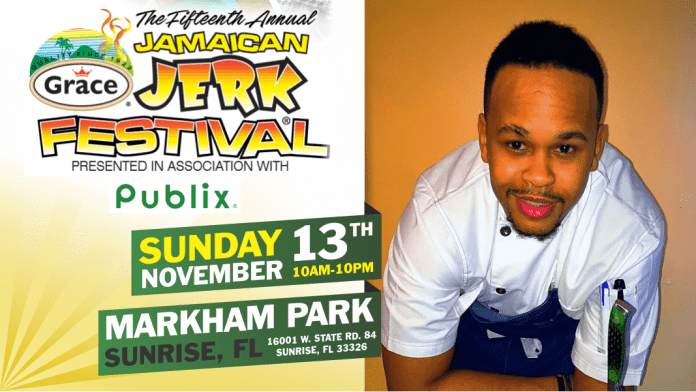 Chef Showdown heats up Jerk Fest
Mouthwatering fun awaits you Sunday, November 13 at Markham Park in Sunrise where families, friends, celebrities, chefs and jerk lovers will gather for the 15th Annual Grace Jamaican Jerk Festival!
The Publix Culinary Pavilion will be featuring a line-up of chefs providing cooking demonstrations and exciting, must-see cooking competitions. Amateur and professional chefs, celebrity chefs and personalities will go head to head to see who emerges with the best jerk dishes.
Included in the lineup is two-time Food Network's Chopped Champion Chef Andre Fowles. Demonstrating his cooking chops with a demonstration at the event he will be the special guest at Publix Aprons Cooking School in Plantation on November 10. Chef Fowles was named "Chef on the Rise" by the Jamaica Observer and is well-respected in the kitchen. Patrons will also have a chance to watch cooking demos with Golden Krust's Chef Odean, who was featured on CBS's Undercover Boss.
Guest can also expect to see, and perhaps even taste, the culinary prowess of acclaimed chefs and celebrities in the Celebrity Chef Throwdown and the Celebrity Quick Fire Challenge. This year's Celebrity Chef Throwdown will see Chef Eddie Jackson, former cornerback in the NFL and The Next Food Network Star Season 11 winner, going up against Chef Maxcel Hardy who was the full-time personal chef for NBA All-Star Amar'e Stoudemire. Chef Eddie's quite at home in the kitchen, and after retiring from the NFL, he took his cooking to another level with everything from family recipes to culinary creations influenced by his travels while in the NFL. He's launched his own food truck, "The Caribbean Grill," and hosts The Food Network's Kids BBQ.
Chef Maxcel is no pushover in the kitchen, with some 12 years of culinary experience and celebrity clients. He co-authored the cookbook, 100 Easy Recipes for Pros and Rookies in the Kitchen with Stoudemire and is currently co-authoring Marley Cookbook with entrepreneur and former University of Miami football player Rohan Marley. When Chef Maxcel is not cooking, he's creating chef apparel for his line Chef Max Designs and working to end hunger in America through his organization, One Chef Can 86 Hunger. With this much star power, there's sure to be sparks flying in the kitchen as chefs Eddie and Maxcel vie for the top spot in this prestigious competition.
Organizer, June Minto encourages patrons to come early to participate and partake of all the offers over at the Publix Marketplace. "We'll have a presentation informing patrons on just about everything they need to know about using the right combination of fresh spices and herbs to create delectable dishes. Plus, there'll be lots of giveaways, Publix Gift Cards, Grace gift baskets, aprons, T-shirts, Publix Greenwise products and so much more."